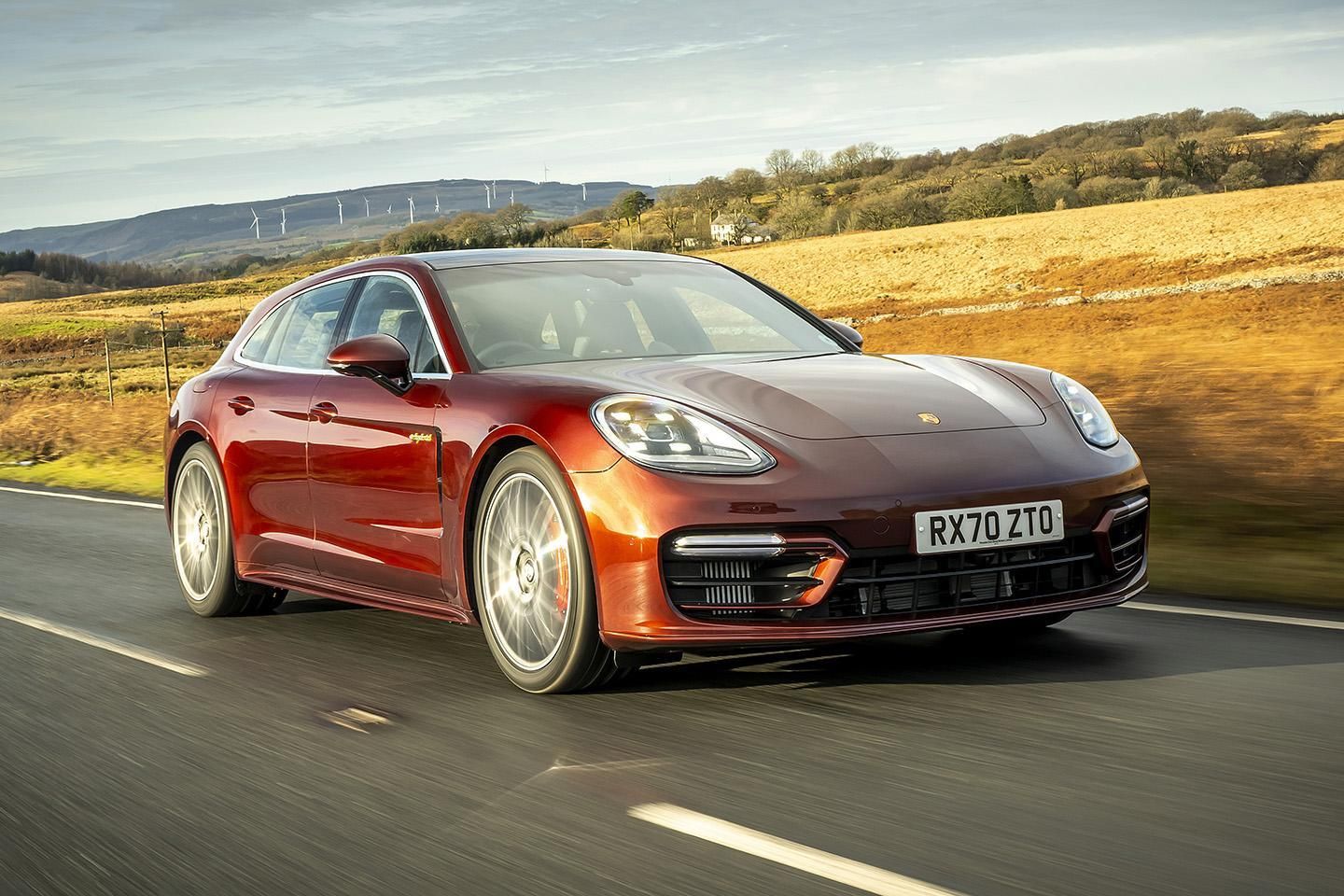 The Porsche Panamera feels like it's living in the shadows these days. There's been so much effort by Porsche to push the Taycan that you could almost be forgiven for thinking the poor old Panamera has been pensioned off. It hasn't. It's still going strong. It comes in two body styles and many iterations of petrol power, with or without electrical assistance. Until now, we hadn't driven the cheapest hybrid option, which is the 4 E-Hybrid, and here it is in the more useful Sport Turismo configuration. So is it the perfect potential partner if you're not quite ready for a full-on Taycan conversion?
Since the Panamera range was updated in 2020, all E-Hybrid models have a bigger battery. Not physically, which would mean more weight, but thanks to optimising the cells the capacity grew from 14.1 to 17.9kWh. Along with better efficiency from the driving modes, this delivers an electric driving range of up to 34 miles – a useful amount considering the average person's commute is meant to be around 10 miles in the U.K. And when it comes to company car drivers, there's still a good saving on BIK bills. It might not be a two-percenter job like the Taycan, or any other EV for that matter, but with CO2 emissions from 49g/km and that zero-emission driving range, how does 12 per cent sound? A hell of a lot better than the 37 per cent you'll be billed for the petrol-only 4 Sport Turismo, I'd wager.
The pro column doesn't end there. There's also the uplift in power and performance that a 136hp electric motor brings. It bumps up combined power output to 462hp and drops the 0-62mph sprint from plus-five seconds for the non-hybrid 4, to a well-that's-pretty-punchy 4.4 seconds. Of course, it's not all lime cordial and cucumber sandwiches. All the extra gubbins add weight as well as performance – 295kg of it. Give or take that's like strapping a Steinway six-foot grand piano to the roof.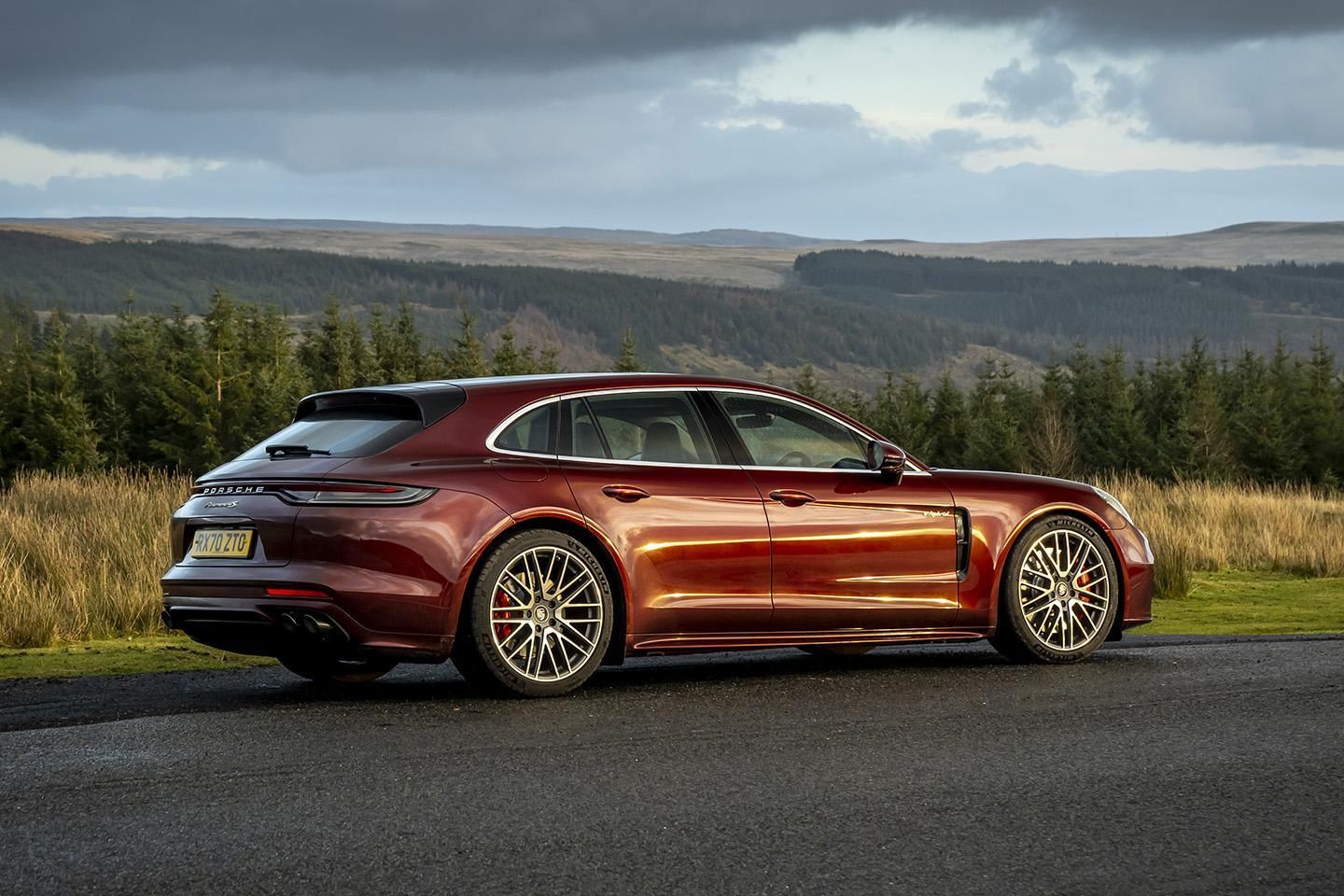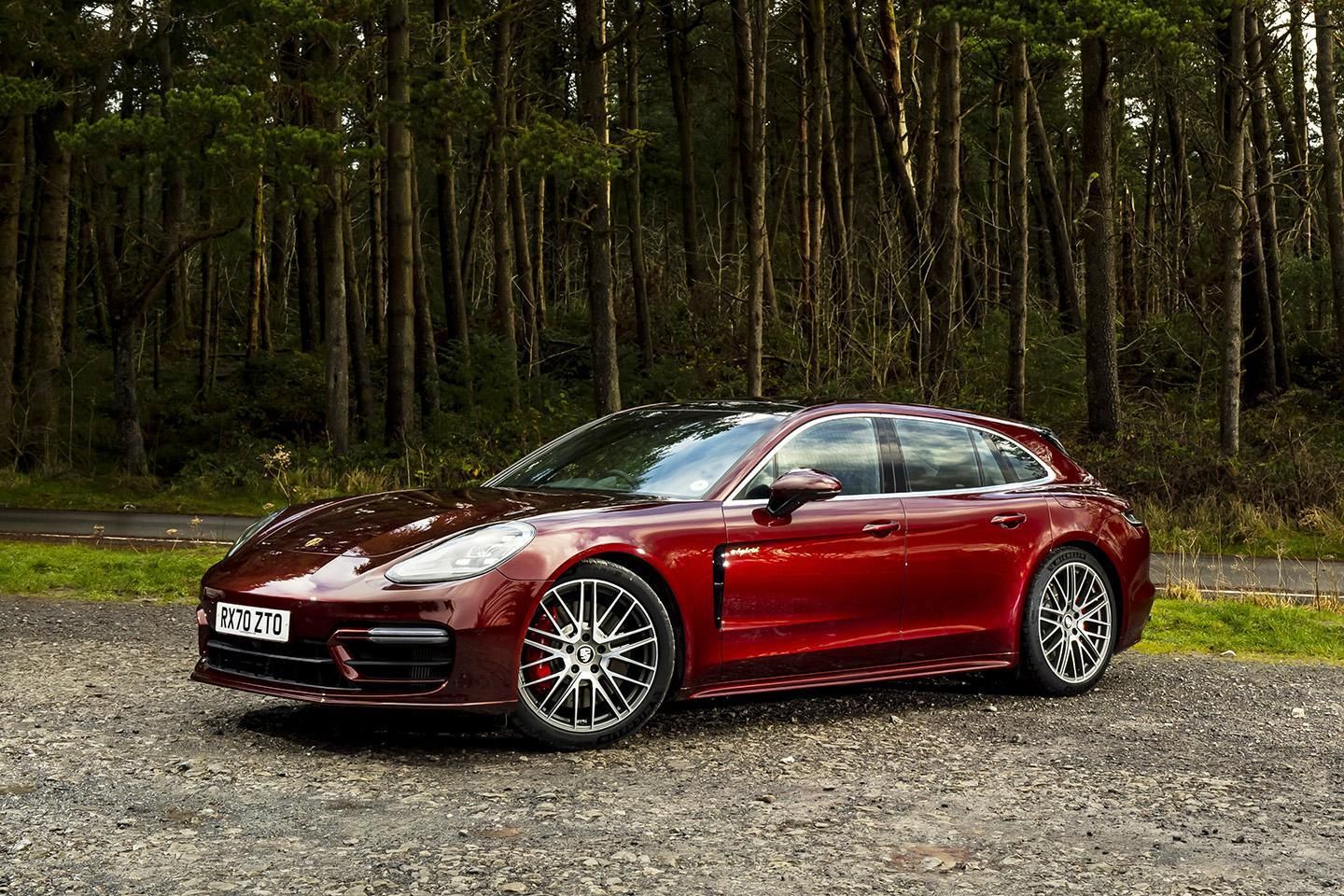 And therein lies the problem. When this iteration of the Panamera was launched, I spent some time back-to-backing a 4S and a Turbo around some fabulous roads in the Scottish Highlands. Many times you'll hear journos saying "You can really feel the extra three grammes over the front axle" and, almost without exception, this is complete twaddle. Unless you're bionic with inbuilt gyros and Tiger Lake processers you simply can't. But when the difference is 120kg, which is how much more the Turbo S weighs compared with the 4S, you can. It makes a big difference to the handling, and when you're increase that to the 295kg this 4 E-Hybrid is carrying, the handling and the ride suffer.
Around town the 4 E-Hybrid feels heavy, leaden and a bit clunky. This starts with the driveline. I don't mean the transition between petrol and electric, which is always very smooth, or the gearbox's ability to whizz seamlessly through gears; as always with PDKs it's pretty much unparalleled in that department. I am talking about the time it takes process your instructions and mobilise all the pertinent systems after you've switched on the ignition and selected drive. This takes an inordinately long time and makes the 4 E-Hybrid feel comparatively lacklustre from the off.
Then there's the ride. Now, this car had optional 21-inch wheels and in the broad scheme of things it's not that bad – but you're certainly aware of its failings. It's fine when it comes to dealing with the longer-wave primary stuff like sleeping policemen, but the thumping and thudding over ridges is noticeable, and the steering is relatively heavy for a semi-luxury offering which only adds to the sensation of weightiness. And because the car's so low and wide, and you're sitting almost on the floor, the whole shebang feels more than a little bit cumbersome. Until you need to perform a U-turn that is, at which point you'll discover that the addition of rear-wheel steering (a £1,563 option fitted to this car) makes it decidedly nimble between kerbs.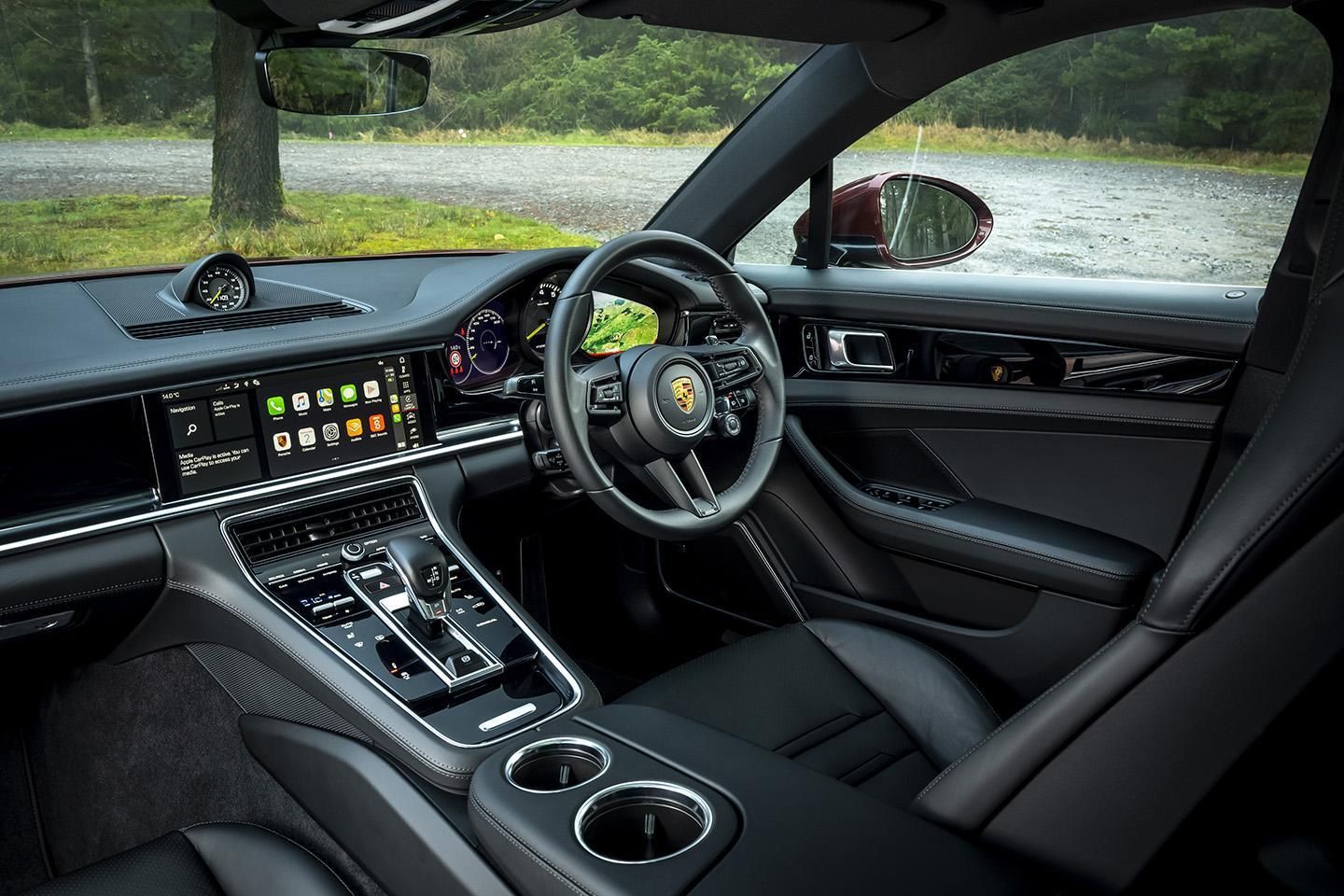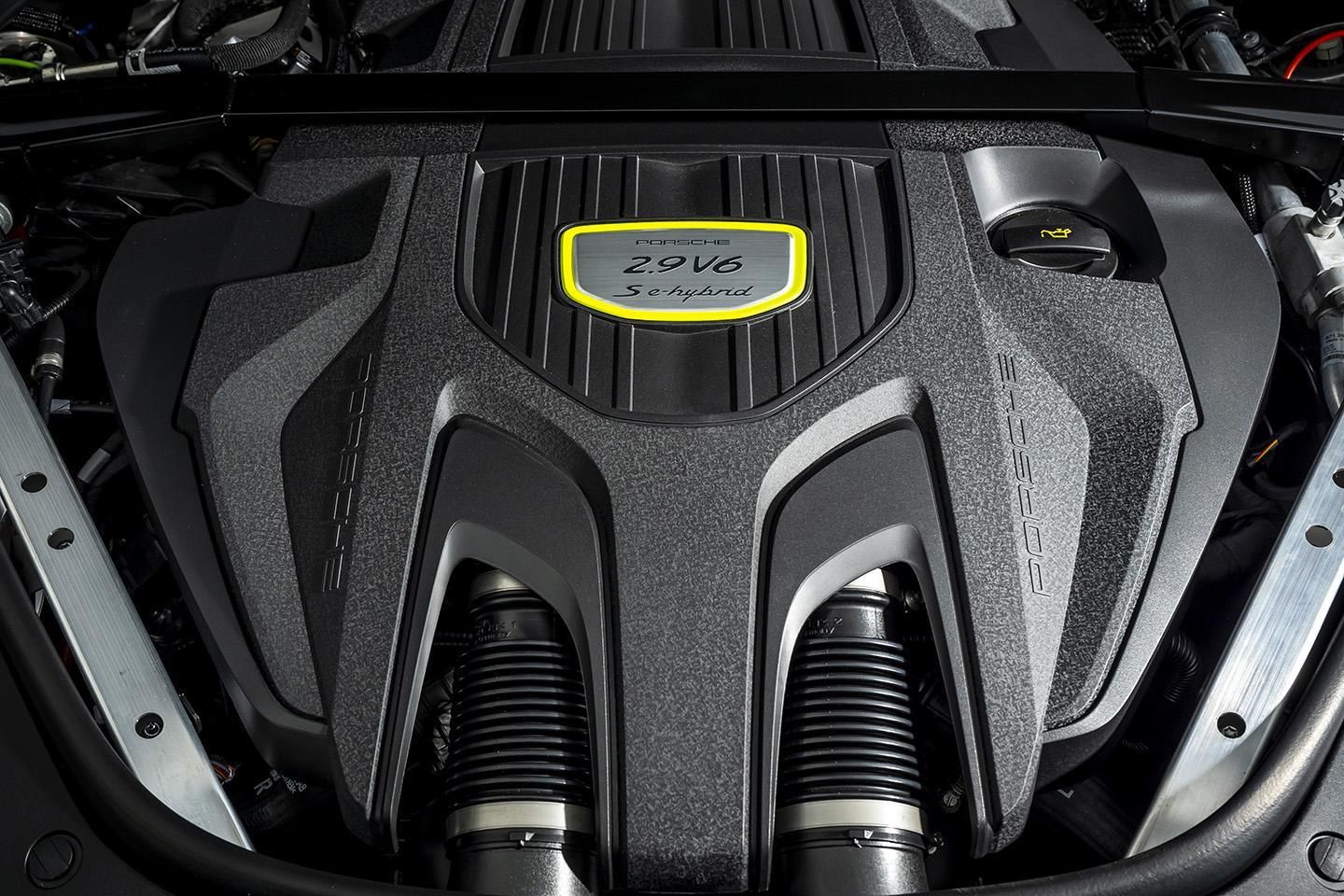 The good news is that it sheds some of its weight metaphorically when you build up a head of steam and starts to feel more lithe and sports-car like. At speed the ride tends to even out – partly because you're less likely to strike sharper callouses on A-roads and motorways than you are in town – and it demonstrates a good degree of vertical control when you lock the adaptive air suspension into its midway Sport setting. And what felt like overly heavy steering at town speeds makes sense when there are bends to negotiate. Its weight is now reassuring, and, as always with Porsches, perfectly geared so it's accurate and responsive without feeling flighty. Even the brakes are good for a hybrid. The first-generation of Panamera Hybrid had awful regen brakes. I don't know whether it was the work on the Panamera Hybrid that helped produce the Taycan's largely predictable anchors or the other way around, but there's no question that the 4 E-Hybrid's brakes are good enough – easy to modulate, with only a hit of corruption from the recouperation. There's still a fair dose of road noise at speed but the wind noise isn't intrusive.
Once you've broken through the initial lethargy in the drivetrain and it's all fired up the performance is strong, too. With the two power sources working together you can build tremendous pace very easily and, from the driver's seat, it's hard to think who would drive this and think "yep, I need a Turbo S E-Hybrid." I didn't find it wanting and cannot conceive how you'd justify spending another £60,000 to lop off just over a second from this car's already handsome straight-line speed. And nor would I spend that amount to swap this 2.9-litre V6's fizzy rasp for a V8 burble, either. It sounds nice. You have the other extreme, of course: swap to electric mode and it's quiet but still fast enough to see plenty of cars off up to 30mph when red turns to green.
Being a Panamera it's very nicely made. This isn't just demonstrated in elements like the choice materials covering its interior surfaces and the concerted effort made to screw them down properly. It's in details like the gas strut used for the door check strap. Not many manufacturers spend that sort of money these days. There's no denying the quality of the screens and the infotainment system's responsiveness, either. Granted, whenever I start using Porsche's infotainment system after a hiatus, I do find the layers of menus a bit overwhelming. Still, after a while they begin to make sense again. And the sound system sounds deliciously good, although this car had the Burmester system that costs a colossal £5,063, so it bloody well should.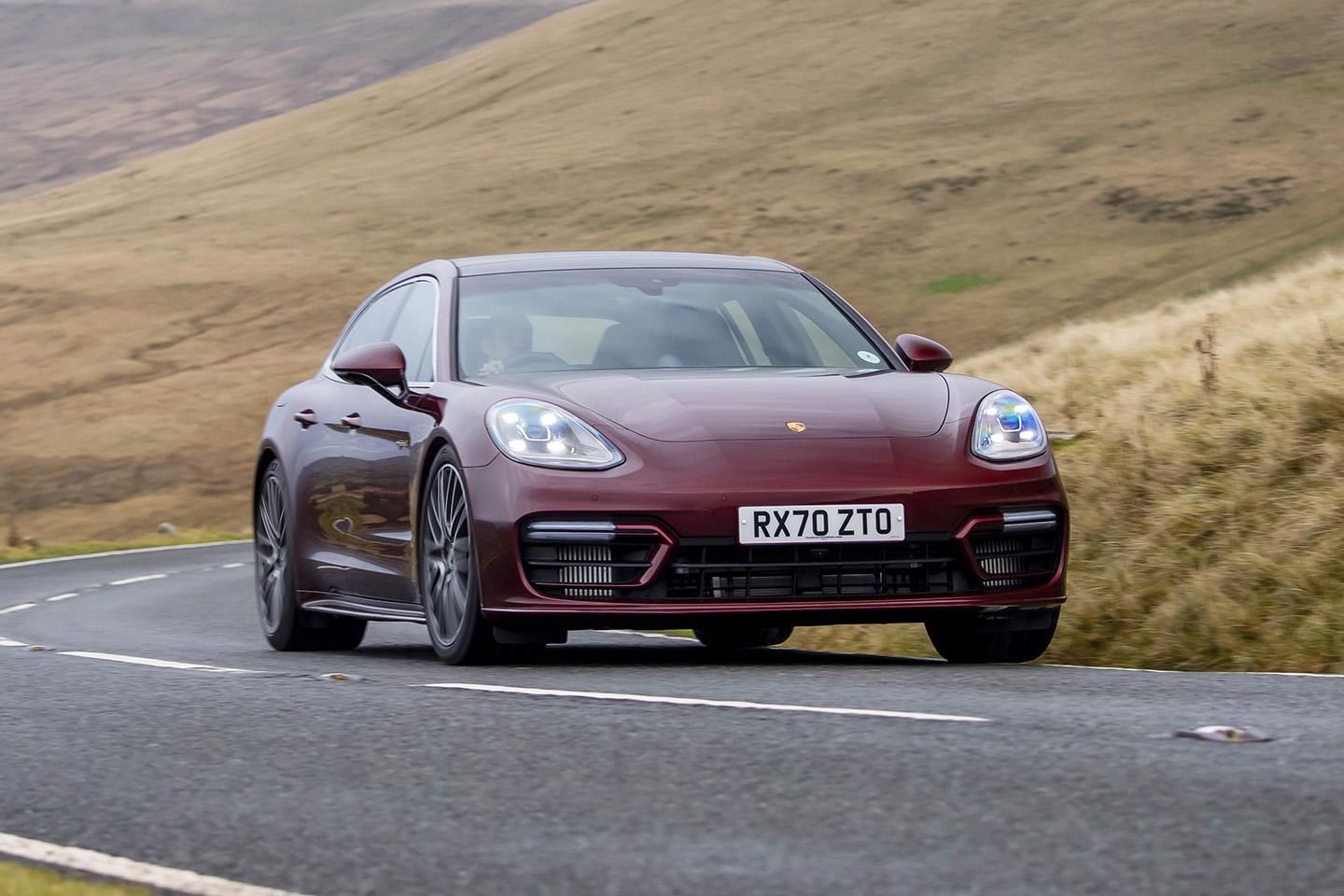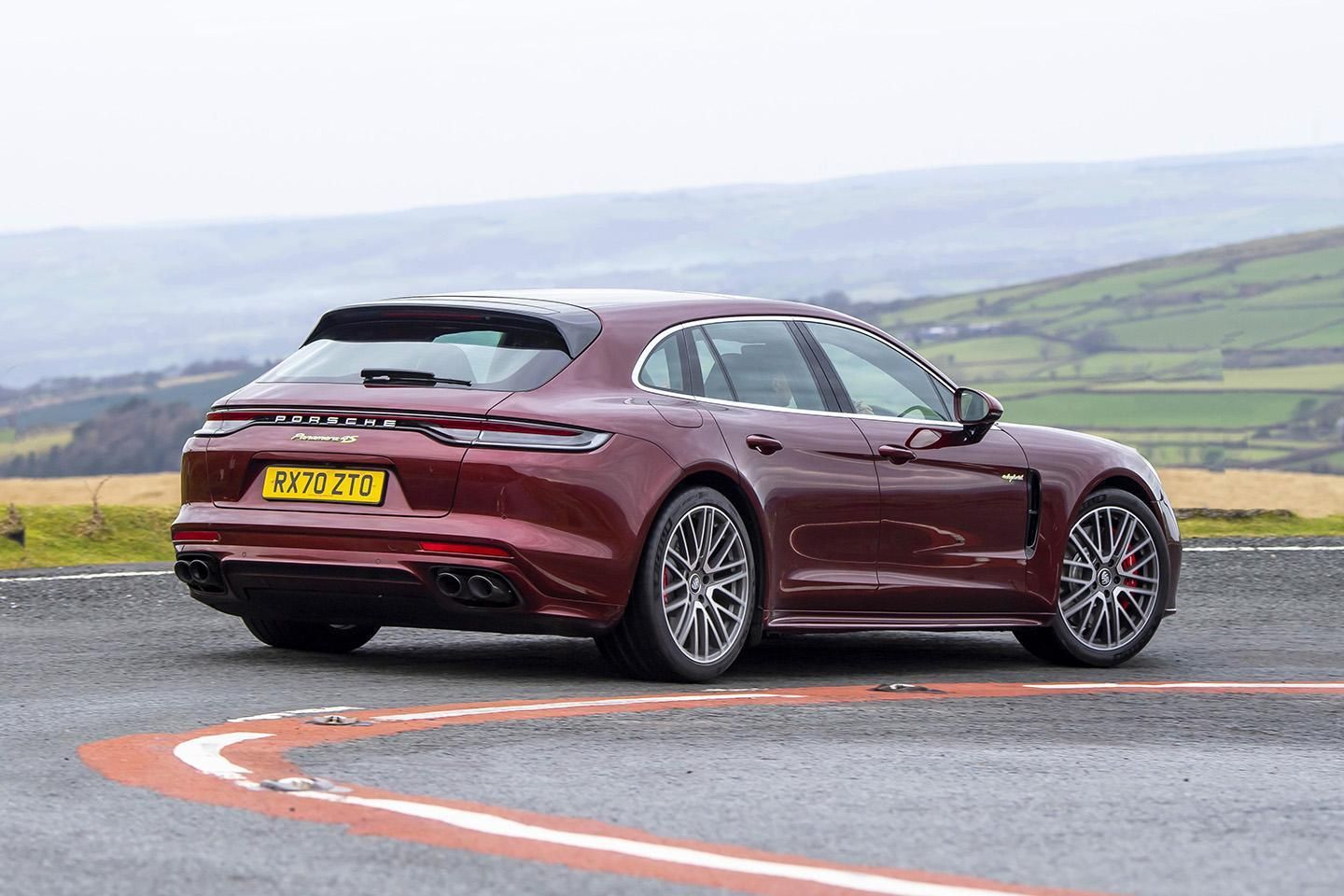 Ultimately though, whether driving the 4 E-Hybrid around town, in the countryside or on the motorway, two thoughts kept niggling away at me. Firstly, that no matter how good this car is – and it is good – when it comes to Panameras, I still yearn for that petrol-only 4S that delivered such a truly sensational drive in Scotland. It felt like more sports orientated, but, because it rode better, it made for a better luxury car, too. In comparison this 4 E-Hybrid feels too obviously compromised dynamically by the effort of delivering those company car tax breaks.
This leads me onto my second niggle. If it's company car tax you're worrying about then I'd recommend going the whole hog and buying a Taycan. The 4S Sport Turismo is slightly cheaper, and while it won't give you the buzz of a six-cylinder combustion engine when you put your foot down, it is quicker. But that's not why it's better. It's better because, despite weighing even more, it rides better, it handles better and it is quieter at speed – not just because of the lack of explosions under the bonnet, but because it's better sealed. So my advice is avoid the concessionary hybrid, even in its most affordable format. Happily, Porsche's lineup is so well stocked with superior models, both old- and new-school, that opting for either is unlikely to seem like a trade-off.
SPECIFICATION | PORSCHE PANAMERA 4 E-HYBRID SPORT TURISMO
Engine: 2,894, V6, twin-turbocharged
Transmission: 8-speed PDK, four-wheel drive
Power (hp): 462 (combined)
Torque (lb ft): 516 (combined)
Useable battery size (kWh): 17.9
0-62mph: 4.4 seconds
Top speed: 124mph
Combined range: 34 miles (WLTP)
Energy consumption: 2.68 m/kWh
CO2: 0g/km (WLTP)
Kerb weight (kg): 2,225 (DIN)
Price: £85,870 (£112,899 as tested)
N.B. Pics are of a 4S Hybrid rather than the 4 Hybrid as that hasn't been photographed. They are to all intents and purposes identical, however – MB