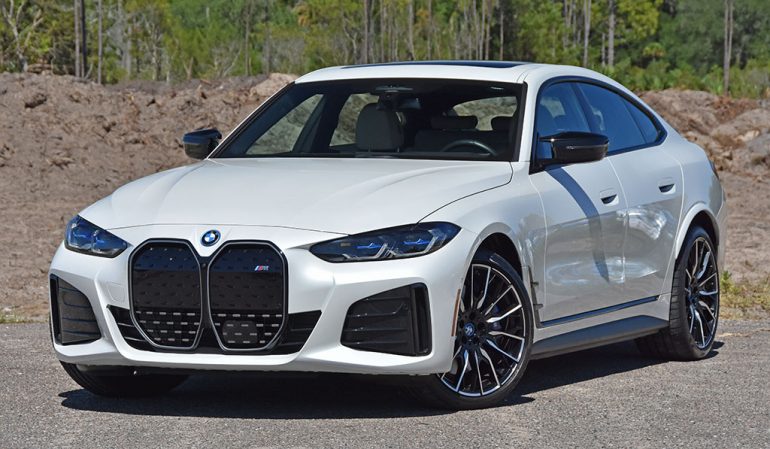 Believe it or not, BMW has long been in the EV (Electric Vehicle) movement with the i3 EV introduced a decade ago. Since the conception of the i3, a lot has changed, and BMW has repositioned itself to be a serious contender in the race to bring the masses new performance luxury EVs that look and feel the part of current ICE (Internal Combustion Engine) vehicles. In comes the new BMW i4, a vehicle that is essentially an electric version of the current 4 Series Gran Coupe ICE vehicle.
The new 2022 BMW i4 is hard for most to tell that it's an EV. In fact, if you don't pay close attention to the subtle differences, such as the unique 'closed' grille and lack of exhaust pipes out the back, you can easily be tricked into thinking that a new i4 is just a new 4 Series Gran Coupe, which is a decent vehicle that I enjoyed reviewing a few months ago.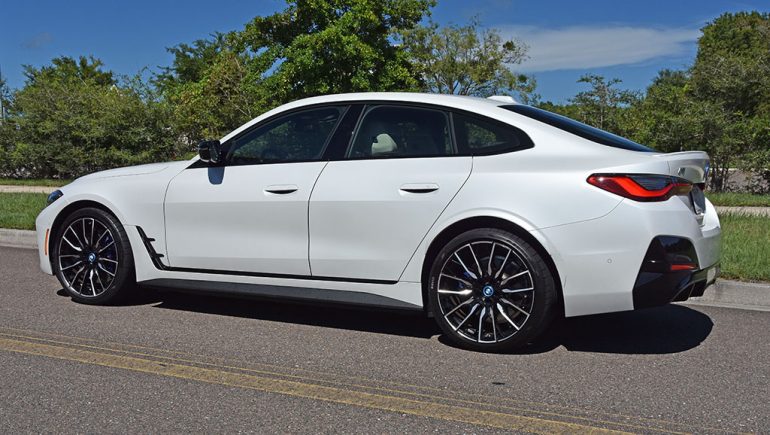 Performance and Driving Character
The new BMW i4 comes in two trim levels, the base i4 eDrive40 touts a single motor for a rear-wheel-drive setup with 335 horsepower and 317 lb-ft of torque that gets a range of about 301 miles. That base model can hit 60 mph in about 5.5 seconds. Moving to my test vehicle's i4 M50 top trim level you get two electric motors for an all-wheel-drive setup that gets 536 horsepower and 586 lb-ft of torque, which is available at its full capacity for up to 10 seconds while the vehicle is in its Sport Boost drive mode. Otherwise, the BMW i4 M50 has a steady output of 469 horsepower and the same 586 lb-ft of torque in other non-sport drive modes. Put the vehicle into Sport Boost and enable launch mode and you will expect to hit 60 mph in just 3.5 seconds, or less as claimed in other independent tests. If you're taking note, that is just as fast, or faster, than the new BMW M3 with a 0-60 mph time of 3.7 seconds. Either way you slice it, the BMW i4 M50 is fast, and enabling launch mode while holding the brake pedal the electric motors purposely pulsate the vehicle to shake it much like how most ICE vehicles do when performing a launch. BMW, you have my attention.
While BMW decided to utilize the look of the 4 Series Gran Coupe, the i4 is actually a different beast that utilizes a different architecture from its adaptive damper suspension setup with auto-leveling air springs in the rear to a unique setup to fit the 81.4 kWh battery pack low in the floor. That packaging of the battery is an oddity because BMW retained most of the interior setup that you find in the new 4 Series Gran Coupe, which incorporates a drive shaft tunnel bump in the rear seating floor, which isn't necessary for an electric vehicle because there's no physical connection/drive-shaft between the front and rear axles as each is powered by their own electric motor in the all-wheel-drive i4 M50 trim.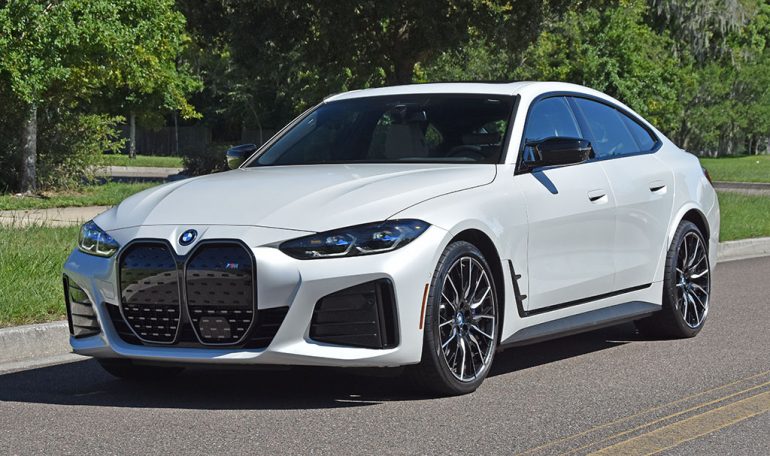 Driving the new BMW i4 M50 is a rewarding endeavor, which I didn't expect out of a new EV. However, BMW instills a driving passion in their vehicles that you must experience to understand, even in the new i4 EV. While the i4 M50 is quite heavy, tipping the scale at 5,018 pounds – that's 1,178 pounds more than the new BMW M3 xDrive Competition – it does a magical act of hiding that extra heft through its compliant and adaptive suspension system, and my test vehicle's optional larger 20-inch wheels (255/35 front and 285/35 rear). Having those larger 20-inch wheels over the standard 19-inch wheels have a negative effect on the range where my test vehicle gets a total range of 227 miles versus the i4 M50 with standard 19-inch wheels gets 271 miles of estimated range. The computer of the i4 M50 recognizes the wheel and tire size and adjusts the range accordingly but I found my test vehicle estimated as much as 240 miles for my total range and I was on a path to getting about 235 miles of range if I were to run the battery down past the 5% state of charge.
The regenerative braking can be a little inconsistent at times, but you tend to learn how much pressure to give the brakes for a smoother stop. There is basically a one-pedal drive feature by bumping the transmission shifter over the left into its B-mode. The vehicle will add optimal regen when you left off the throttle and come to a complete stop if you let it. Otherwise, you have a manual setting of the regen strength through the drive settings and a clever Adaptive mode that adds more regen as the front radar detects you approaching a vehicle.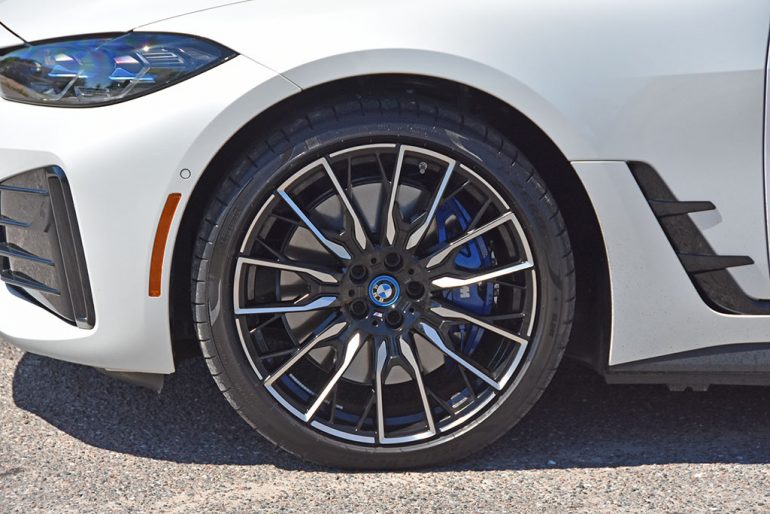 The i4 M50 rides pretty well and the rear air suspension, which isn't user-adjustable, keeps the body level no matter what you load in the rather large rear cargo hatch. You can feel some of the 5,000 pounds of heft when you put the i4 M50 into a sharp turn at speed where it feels it may plow a little with a taste of understeer but surprises with reactive grip from its rather large and wide staggered tires. The steering feels mostly numb and less connected than it does in the 4 Series Gran Coupe.
There's also an interesting soundtrack inside of the i4 M50 called "Iconic Sounds," which is an electronic-type roar that somewhat mimics the sound that you expect out of a Star Wars Podracer or a Speeder Bike from "Return of the Jedi," or maybe the Starship Enterprise when you ask for more warp speed. The unique sounds were actually created by award-winning composer Hans Zimmer, which is amplified depending on your drive mode. In Sport Boost mode the sounds are almost to the point of being comical as they are very loud but are tuned to following the power generated through the EV motors. There's even a unique "alert" sound that's emitted if you curb a wheel or get into an accident, which I chose not to test out. For those who think the sounds are too gimmicky, you can switch them off.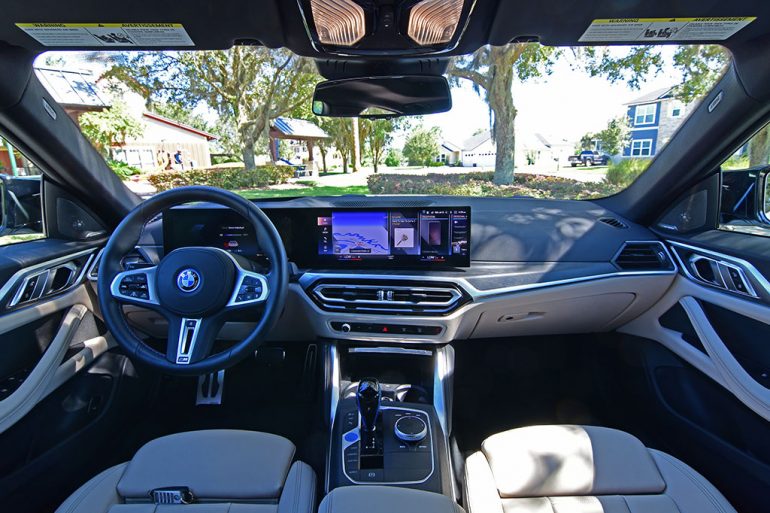 Interior and Tech
The inside of the new BMW i4 M50 is mostly the same as what you find in the 4 Series Gran Coupe. BMW did bring us the new iDrive 8 infotainment system, which brings the integration of a new curved infotainment screen setup that flows into a 12.3-inch digital driver's gauge cluster. The infotainment screen, now at 14.9-inches, brings a new interface that may be a bit overwhelming at first and does require going through a short learning curve. The overwhelming part is mostly from the abundance of app icons, which you can sort out the primary vehicle features/functions to simplify the long list. The new iDrive setup is quite deep in its functionality with some customization options. The screen setup looks like it almost floats through the soft-touch dashboard but still looks well integrated to "fit" the space and offer a close enough touchscreen that you don't have to reach too far.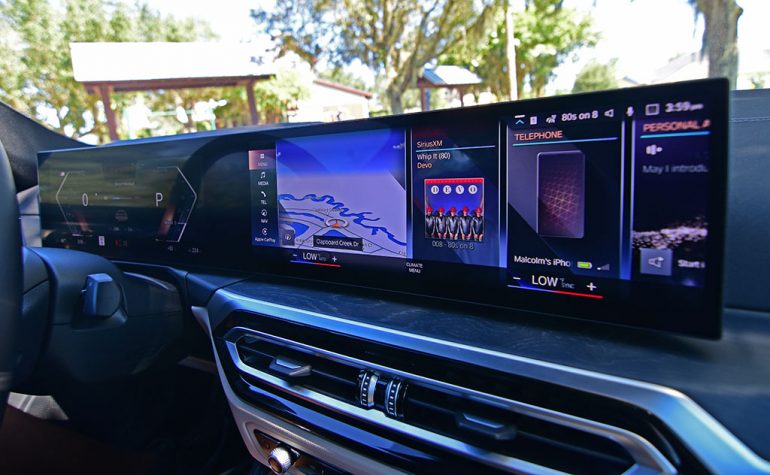 There's the expected wireless Apple CarPlay and Android Auto integration and a return of the same physical iDrive controls. Where things take the longest to get used to is the automatic climate controls are only accessed through the touchscreen but have their own dedicated row of quickly accessing the temperature settings and a climate menu to bring up the rest of the functions. The climate menu must be accessed to bring up simple features like the heated seat controls and even the fan speed, which used to be dedicated physical buttons in the previous iDrive setup. The only physical buttons are the front/rear defrost, hazard lights, audio system forward/reverse seek/track, and a volume knob.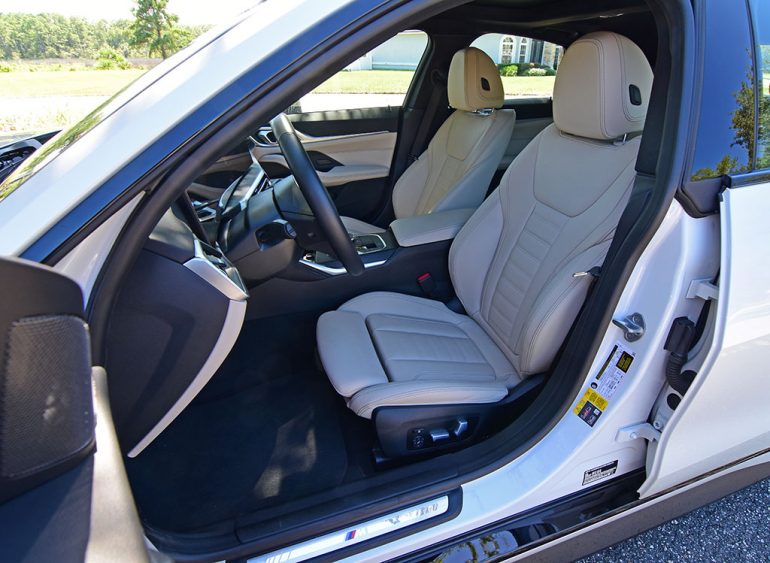 Overall, BMW's new iDrive 8 system remains very responsive and makes way for over-the-air updates that may even add additional functions, such as updates to the voice response that now controls additional vehicle features through a simple "Hey BMW" voice prompt.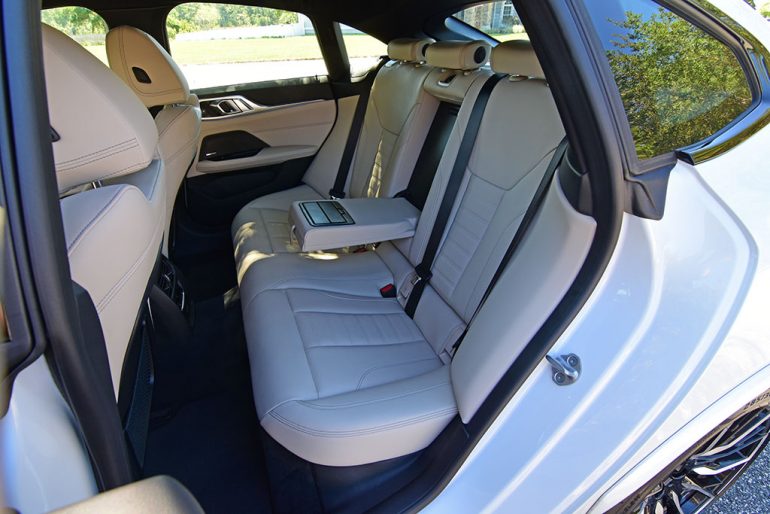 Electric Consumption and Efficiency
The BMW i4 M50 has an onboard charger with a 200 kWh DC fast charger rate, which will get you a charge from 10% state of charge up to 80% in about 30 minutes using a DC fast charging station (preferably a 350 kW DC fast charger). You'll add about 109 miles or range in just 10 minutes of DC fast charging.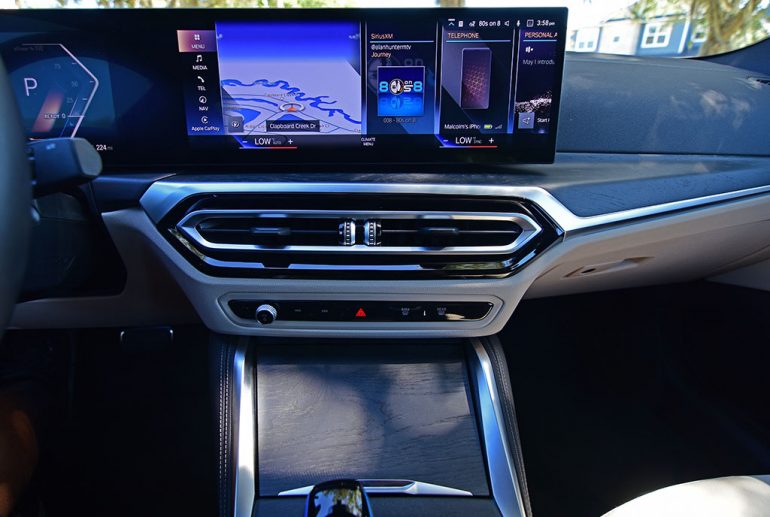 The i4 M50 with the 20-inch wheels gets the EPA estimates of 79 MPGe city and 80 MPGe highway. Again, as I mentioned the BMW i4 M50 with the 20-inch wheels appears to easily get slightly more range than the 227 miles if you drive carefully. The BMW i4 comes with a charging cable for your home 110v outlet and an adaptor for a NEMA 14-50 outlet to enable a charge from that 240v that takes just under 8 hours to charge from 0% to 100%. You'd be safe to estimate a total range of 227 miles on a 100% charge in the new i4 M50 equipped with the 20-inch wheels option.
Safety
Just like any other BMW, the i4 brings all of the active safety features to the table in addition to having the optional Parking Assist Package to add the welcomed 360-degree camera system, a drive recorder system, and parking assistant plus with active parking distance control. You also get adaptive cruise control, lane departure warning/lane-keep assist, blind-spot monitors, forward warning with emergency braking and pedestrian detection, and rear cross-path traffic alert with emergency braking.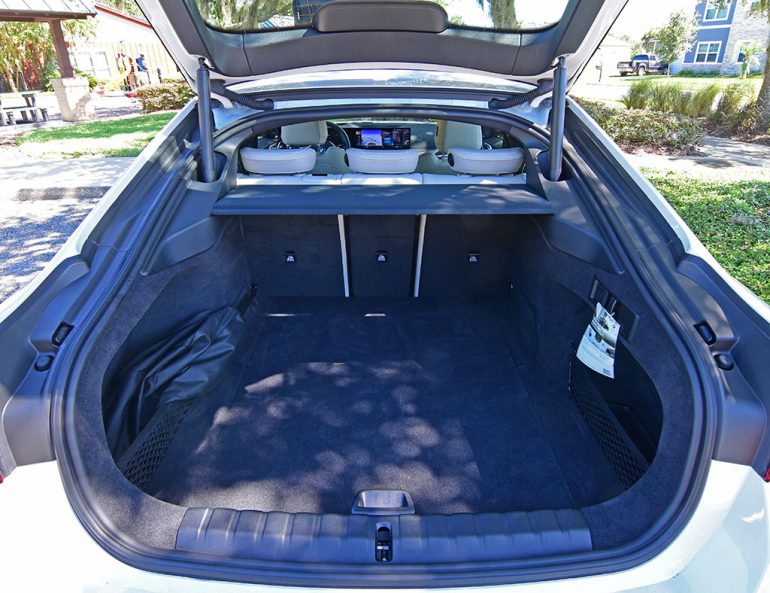 Price
The new BMW i4 is actually priced decently considering its starting point at $55,900 for the base i4 eDrive40 RWD model, which comes in cheaper than a comparable Tesla when you factor in the $7,500 federal tax credit that you can get on a new i4. Even with my loaded-up i4 M50 test vehicle coming in at $78,520, you have respected price point with the tax credit giving you one of the least expensive luxury EVs you can buy at this current time.