Tons of kids grew up in vans. If they were a little older it was full-size vans, but Generation X and Y lived in the Ford Aerostar, Chrysler Town and Country other more maneuverable forms of people hauler. As those kids got older, they didn't think minivans were cool. But then those kids became adults and needed to transport kids of their own. And there's no better vehicle for transporting people and stuff than a minivan.
The Toyota Sienna was a late arrival to the minivan scene, landing in North America as a 1998 model. Last year marked the beginning of the fourth generation of Sienna, which brought a sole hybrid powertrain and the option of all-wheel drive, a boon to minivan drivers in northern states.
The biggest change for 2022 was the addition of the Woodlands Special Edition, which comes with equipment for traveling a little farther off road than a standard minivan. It adds all-wheel drive, a 1,500-watt inverter with 120-volt outlet, a hitch with a 3,500-pound tow rating, roof rails, 18-inch wheels, a premium audio system and dark accents inside and out.
But before that, the Sienna got a big redesign for the 2021 model year, taking a more aggressive approach to the normally staid bodystyle. Toyota widened the front and rear fenders as with its Highlander SUV. It cleaned up the door slide area to make it look more like a crossover and completely restyled the head and taillights to look more like the rest of the brand.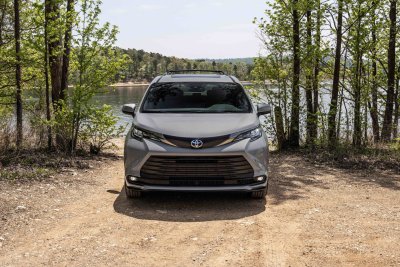 And the designers did a great job. The 2022 Toyota Sienna is one of if not the coolest looking minivan on the market, depending on how you categorize the Kia Carnival. It is also offered with excellent color choices like Blueprint (medium blue), Ruby Pearl Flare (dark red) and Cypress, a Kelly-green color. And those are in addition to three silvers and a dark blue.
The 2022 Sienna now offers six trims starting with the LE for $35,285. That comes with dual power sliding doors, keyless entry, seven USB ports, a 9-inch touchscreen infotainment system with Apple CarPlay and Android Auto.
The Sienna XLE adds a mooroof, sliding second row seats, heated front seats, four zone climate control for $40,575. The LE and XLE are meant to be the more luxurious choices while the XSE has sportier styling. In addition, the XSE also adds a sport-tuned suspension and parking sensors for $42,825. The Woodland Edition starts at $45,500.
The Sienna Limited ($47,525) adds ventilated seats, sliding second row chairs with ottomans and the Platinum ($50,725) tested here adds LED daytime running lights, rain-sensing wipers, sunshades, leather-wrapped seats and a bird's eye view camera. This one also had the rear seat entertainment package for $1,415 with an 11.6-inch touchscreen and a few other bits for a total price of $55,042 including destination.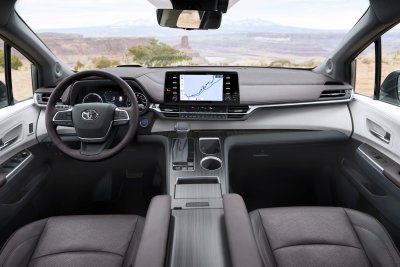 Regardless of how good it looks, the cabin of the minivan is the most important part and the new Sienna did not disappoint. It starts not with storage space, but just general flat space. The armrest features a wide flat tray that extends to the cupholders and shifter. It's big enough to hold a purse, or a phone or papers for the next meeting.
It also has a tray at the dashboard that features the wireless phone charger, but also a ton of space for keys, change, napkins and everything else that builds up in a vehicle made for 7 or 8 passengers. In the Platinum trim it's finished in matte wood, which makes it look even better.
There's also a huge storage space beneath the center console, not to mention space in the doors and in the center armrest.
The cabin feels cavernous in the first and second row. Those sliding captain's chairs (with ottomans) in the middle row are supremely comfortable, though those footrests are NOT supposed to be used while driving due to how seatbelts work. The third row can be extra small, or completely reasonable for adults when the second row (possibly with child seats) is slid forward.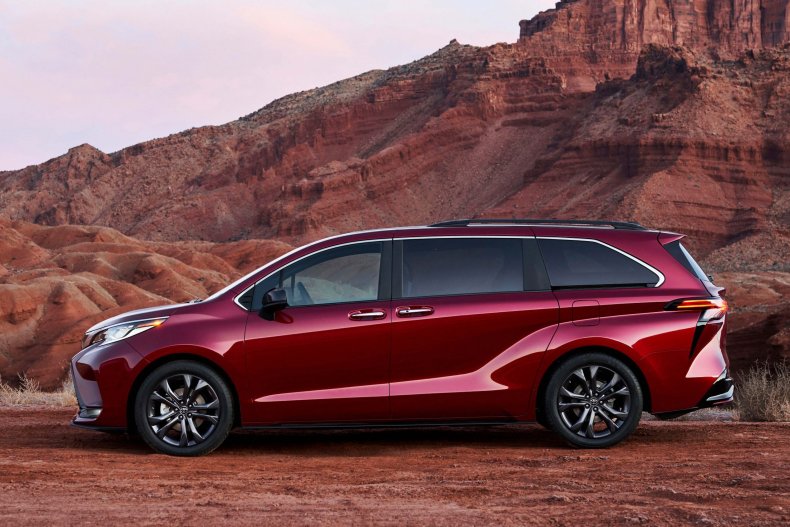 The driving position in a minivan is always a little more upright than most, but the Sienna leather-wrapped seats were soft and comfortable. The heating and cooling functions worked quickly and there was a lot of adjustment for different body types.
Toyota's taken huge steps in its infotainment. The upgraded 11.6-inch touchscreen worked perfectly over the week of testing. Wireless smartphone integration isn't included yet but Apple CarPlay worked fine with a cord. The screen features two knobs for volume and tuning along with several other redundant buttons if buyers don't always want to use the screen.
The 2022 Sienna only offers one engine, a 189-horsepower four-cylinder engine with an electric motor and hybrid battery pack making a total of 245 horsepower. That motor and battery work on the rear axle to add power when the road gets slippery. When it's not needed it shuts off, saving energy and leading to a 35 mile per gallon rating from the EPA.
In practice the Sienna feels surprisingly quick from a stop. The problem arises when there is a little slip, or the driver turns the wheel too hard. In that case the tires try to spin, which kicks on the traction control, sapping power. It happens less when taking off in a straight line.
The continuously variable transmission keeps the van hustling along but like most in the category, it makes the engine sound tired and buzzy, even though it isn't. Passing maneuvers, even from higher speeds are completely acceptable, if not thrilling.
The standard suspension and medium effort steering on this Platinum model keep the minivan on track and in its lane. Only huge bumps affect occupant comfort and none transmit anything through the steering wheel.
Toyota Safety Sense 2.0 is standard across the board with adaptive cruise, lane keeping, auto high beams and road sign assist.
The Chrysler Pacifica is the giant of the minivan market, starting at about $37,000 with a V6, all-wheel drive is extra. The handsome and cool Kia Carnival is cheaper at $32,600 and the Honda Odyssey has a base price of $37,340.
Minivans aren't meant to be an exciting drive. They're meant to get you and six of your friends or family someplace to then have fun. And at that the Sienna is successful, and more efficient while doing it.