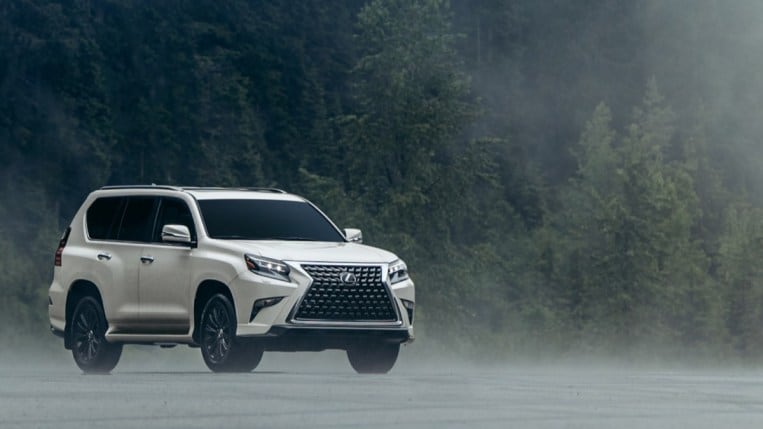 Don't mess with happy. It's a lesson many of us need to learn over and over, but Lexus must have spent time on some effective personal retreats in its 30s. Toyota's luxury brand tends to know its strengths and trust its inner voice, and it asks for what it needs.
Case in point: the 2023 Lexus GX. If you want an SUV with genuine off-road skills, bulletproof reliability, and most of the gadgets of a modern luxury car, Lexus designed one for you — in 2010. Twelve years later, it's still available, they're happy with it, and they're not going to mess with happy.
One of the Lightest Updates We've Ever Seen. Maybe That's a Good Thing.
For 2023, Lexus has updated its most rugged SUV by dropping one color from the order sheet. That's it. Those are the updates.
Ok, not quite. A Mark Levinson Premium Surround Sound stereo system is now standard on the top-of-the-line Luxury trim. It was optional last year, but most buyers ordered it, so Lexus is throwing it in. THAT's the full list of updates.
Last year, the GX received a more substantial list of updates, including standard Android Auto and Apple CarPlay compatibility, as well as the new Black Line edition with a darkened trim. The Black Line returns, though Lexus will build just 3,000 of them.
And, of course, in a year of heavy inflation and increased shipping costs, there's a price increase. But it's a reasonable one — under $1,000 at most trim levels and $1,445 on the Luxury model to account for the stereo.
It's a tiny update to a vehicle that has been largely unchanged since 2010. But how many of us can say we got it right in 2010 and still know what serves us? We're proud of you, 2023 Lexus GX.
2023 Lexus GX Pricing:
Most automakers provide a manufacturer's suggested retail price (MSRP) and separate delivery fee for their vehicles. We usually provide both fees in our articles to increase industry transparency about delivery costs. But Lexus has provided only MSRPs with the delivery fee on the 2023 GX, not breaking out how much of the price goes to shipping. So the prices you see below include destination charges.
| | |
| --- | --- |
| Trim | MSRP |
| GX 460 | $57,575 |
| GX 460 Premium | $58,910 |
| GX 460 Black Line | $62,310 |
| GX 460 Luxury | $68,230 |