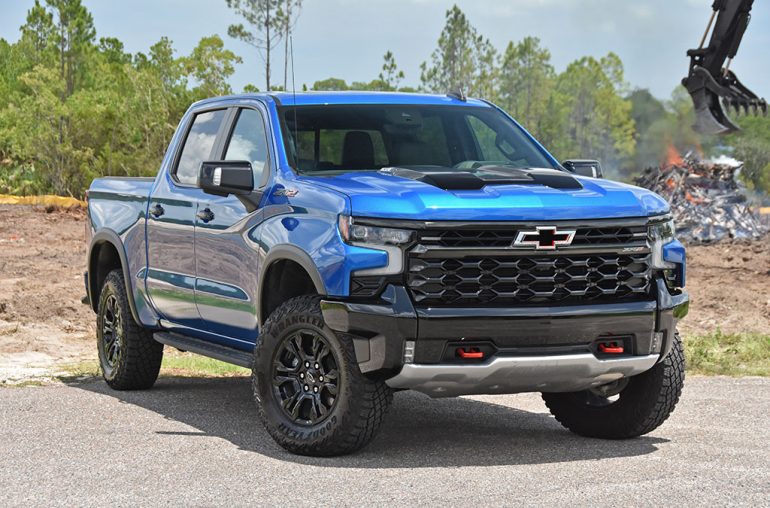 Who would have thought that there would be an American truck race where manufacturers are vying for recognition for having one of the most off-road capable full-size trucks that also packs a punch under the hood? As it turns out, the race is on full tilt as Ford has the Raptor and recently unleashed their Raptor R, RAM continues to offer the TRX, and now, Chevrolet joins the party with the new Silverado ZR2 that takes on an interesting and quite safe approach to have some fun.
The new 2022 Chevrolet Silverado has pivoted itself with refreshed styling inside and out that's welcomed considering how its competition has really stepped things up. Apart from the refreshing, Chevrolet brings us a hardcore off-roading truck, the new ZR2 off-roading version that touts some serious hardware but seems to do things on its own terms by using the proven 6.2-liter V8 engine without any add-on frills, and an overall width that's a bit smaller than the competition allowing the ZR2 to potentially navigate tighter spaces.
Performance and Driving Character
The new 2022 Chevrolet Silverado continues its path it changed up in its 2019 model year redesign. Since then, there have been only minor changes with the 2022 model year receiving some updates and the highly anticipated ZR2 trim. The new Silverado ZR2 embodies some of that off-road conquering attitude that you found in the Ford Raptor and RAM TRX but the ZR2 retains itself somewhat in having the same 6.2-liter naturally aspirated V8 found in many other GM vehicles touting 420 horsepower and 460 lb-ft of torque. The engine gets mated to the latest 10-speed automatic transmission but in the ZR2 you get a few rugged goodies to make it the most off-road capable truck out of GM.
The Silverado ZR2 gets some useful off-roading content by the way of Multimatic DSSV spool-valve shocks, front and rear locking differentials, knobby 33-inch Goodyear Wrangler tires wrapping 18-inch wheels, a trick terrain drive mode, a performance exhaust that's tucked far under the rear bumper, a skid plate package, and high approach angles thanks to a 11.2-inch ground clearance and a high approach front steel bumper. You get a breakover angle of 23.4 degrees, an approach angle of 31.8 degrees, and a departure angle of 23.3 degrees. If you're wondering, that's all good stuff!
The suspension in the ZR2 is surprisingly excellent for its balance for on-road smoothness without sloppy handling and the ability to navigate rough terrain with compliance and the proper capability you need in a hard-core off-roading truck. While the rear suspension still utilizes leaf springs, the shocks do most of the work to keep things well dampened and in control but still exude a rather smooth ride quality on paved roads. The wheel travel of 9.84-inches front and 10.62-inches rear, is also excellent for those times you want to do a little rock crawling or at-speed drives over somewhat aggressive rises and dips.
The ZR2 looks the proper part of a serious off-roading truck from its darkened trim to the large glossy black grille with a couple of LED lighting elements, red tow hooks, and the unique flow-tie emblem trimmed in red. There's no confusing the ZR2 with any other Silverado or truck in the GM lineup for that matter. However, you must know that Chevrolet didn't just stick some appearance goodies on this truck to call it a ZR2, they went the distance to make it as rugged as they thought was needed. Even though the ZR2 pales for its performance numbers on paper when pitted against the frontrunners of the power fighting trucks, it has a good level of durability and abilities in its proven powertrain that still gets the job done without issue or the need for additional power. Sure, the ZR2 only gets 33-inch tires but you're working with a narrower width that could help with maneuverability. Also, the power figures are slightly down from direct competition, but you still have more than enough grunt to conquer all you would throw at such a truck. Additionally, you have the ability to tow 8,900 pounds, which is more than its Raptor and TRX competition. The use of the transfer case in hitting 4-low takes full advantage of the consistent and low-end grunt power of the V8 engine. Moreover, you have a 3.23 ratio rear axle as part of the ZR2 package, which only has a few select options that are more in the technology field.
Interior and Tech
Inside of the new Silverado ZR2 is the newly refreshed interior that really takes things up a few notches for a more premium feel and theme that's mostly found on the top-level trims. The ZR2 adds a few unique elements having Jet Black and Greystone leather with contrasting stitching throughout.
There's a new 13.4-inch high-definition touchscreen running an updated infotainment software that embeds Google maps, app store, and voice assistant. I noticed that the system does have some loading times but once things are up and running it responds well to inputs with a nice level of customization. Apple CarPlay and Android Auto, both USB wired and wireless, are integrated. The new refresh for the Silverado also brings us a 12.3-inch digital gauge cluster and updated electronic t-shaped gear shifter and steering wheel paddle shifters.
You can opt for a 5-foot or 10-foot bed but the ZR2 only comes as a crew cab, which is perfectly fine in my opinion as the payload is maxed out at 1,400 pounds.
Fuel Economy
The Chevrolet Silverado ZR2 eats quite a bit of regular fuel but in driving such a vehicle you know exactly what you're getting into. I say that because the fuel consumption is mostly consistent without any crazy surprises while you expect to match the EPA estimates of 14 mpg city, 17 mpg highway, and 15 mpg combined. Although, you do get a 24-gallon tank giving up a decent range on the highway.
Safety
As expected, there's a proper amount of active safety features included on the Silverado ZR2 (adaptive cruise control, lane departure warning/mitigation, lane keeping assist, forward collision warning/emergency braking, blind-spot monitors (and Trailer blind-spot monitor), rear cross-path detection/emergency braking, 360-degree surround view camera, etc), which most send alerts through the traditional safety alert seat that pulses vibrations for its alerts. For the new Silverado there is the option of GM's excellent Super Cruise semi-autonomous driving system, but it is not available on the ZR2. My favorite feature was the 360-degree camera system that can be brought up when you're driving to view multiple angles, including the truck bed, hitch area, and even the lower front for those times you need to navigate on a serious incline, and you simply cannot see the ground over your hood.
Price
At first glance, the pricing of the new 2022 Silverado ZR2 took me by surprise in being on par with something like the new Ford F-150 Raptor. However, in really looking at the collective of what you get in the ZR2, the price is well justified in my summation landing at $72,770 for my loaded-up test vehicle, which includes a destination charge of $1,695. Chevrolet did well here, and they will not only get the fanboys attention but others as well as you're working with a well-proven off-roader here with some welcomed niceties.