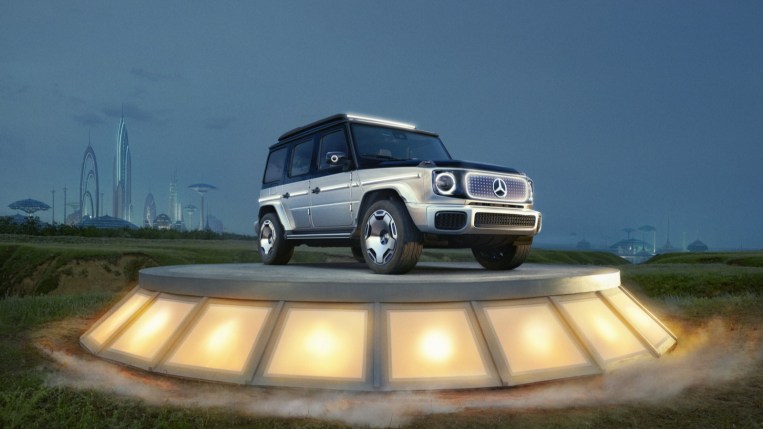 Most of the auto industry has now settled on a fairly predictable formula for building electric cars. That includes Mercedes-Benz, which has a fleet of electric vehicles (EVs) on the way that shares most traits and many parts.
The company plans to go all-electric in most markets by 2030. To get there, it's building electric equivalents to many of its gas-powered cars, which share a large number of components and a common design platform.
But off-roaders are a different engineering challenge — Mercedes has just one legendary off-road vehicle, the G-Class. The storied German automaker has realized that in order to build an electric equivalent, it will need a different formula.
CEO Emmerich Schiller tells the U.K.'s AutoCar that this means the upcoming Mercedes-Benz EQG will not share a platform with other electric Mercedes models.
An Old G-Wagen Platform, A New G-Wagen Fuel Source
Most Mercedes EVs, like the EQE sedan, EQE SUV, EQS sedan, and EQS SUV, are built on a common skateboard platform. As a nearly flat combination of battery, electric motors, steering, and suspension bits, engineers can scale it up or down to build many types of cars.
But the EQG will ride on a modified version of the steel ladder-frame chassis that makes the gas-powered G-Class such a capable off-roader. "As with the internal-combustion-engine models, the body is connected to the ladder frame at eight points," Schiller says.
Other Mercedes EVs use one or two electric motors attached to the axles. The EQG will instead use four motors, one powering each wheel.
That's the same approach used in the Rivian R1T, one of the more capable off-roaders we've tested in recent years.
Kelley Blue Book parent company Cox Automotive is a minority investor in Rivian.
"The individual control of drive to each wheel provides a whole new level of ability," Schiller says. "It is really fun every four weeks to drive the latest prototypes. I think we have the best electric off-roader."
AMG Version Coming, Too
Mercedes is keeping performance details close to the vest for now. But Schiller tells AutoCar there will be several models with varying power levels. They'll include a flagship AMG model.
There was one detail Schiller would reveal — the electric G-Class will be capable of a "tank turn" in which the front wheels turn one way and the rear wheels another, letting it turn without moving forward or backward. That also is similar to the Rivian.
Mercedes will seal the battery to allow fording through deep water, he says. That approach has proven problematic for some off-roaders. However, other companies remain confident it can work — perhaps even allowing an EV to float.
The EQG, AutoCar reports, is at least "two years out from its planned launch."