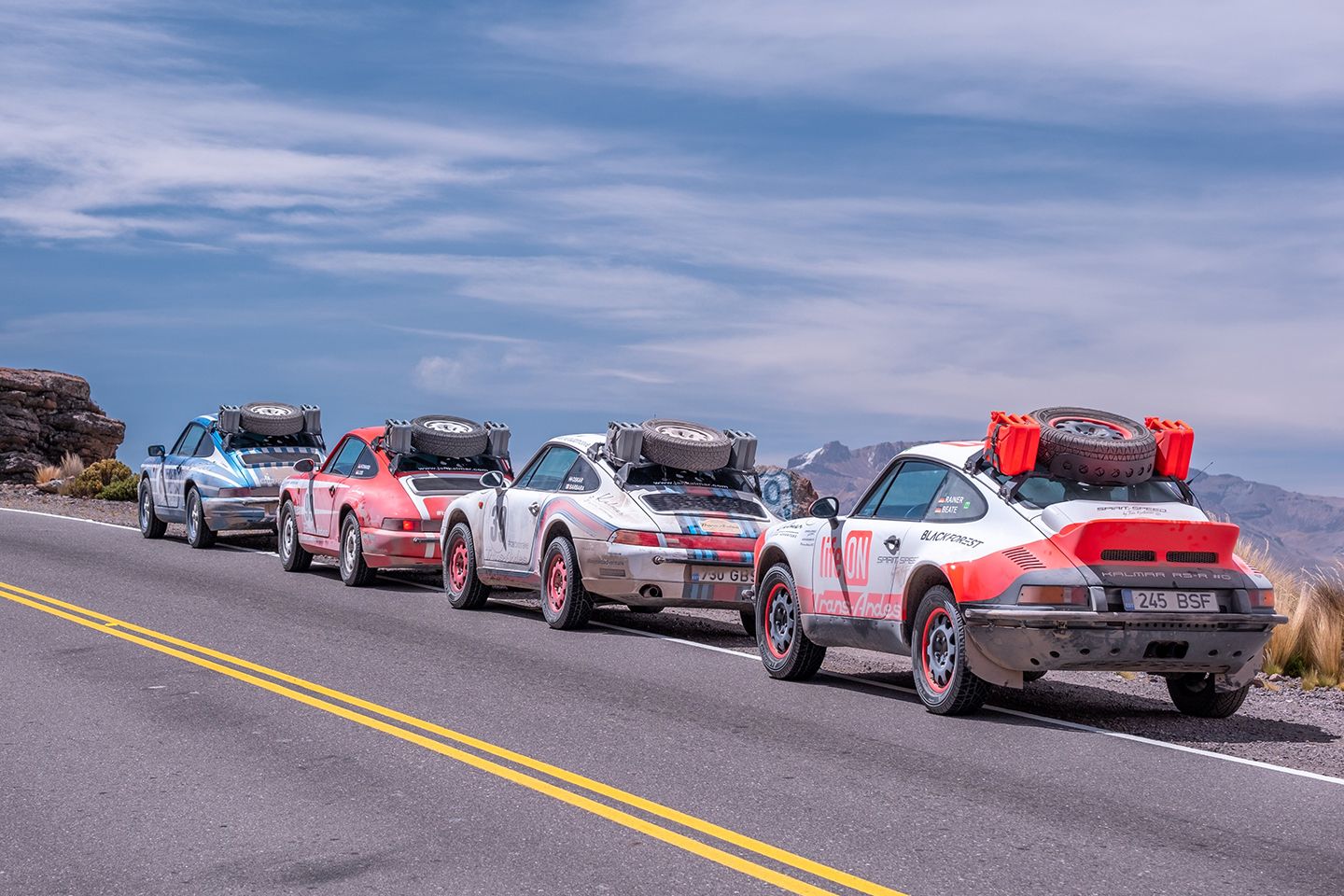 Of course, the new Dakar is not the first all-terrain 911. Rear-engined Porsches have been off the beaten track for years, with dozens of companies specialising in overlanding builds and more extreme projects. And it would be a surprise, given the response on the Dakar, if they're not a little busier over the coming years. Because if all those new 911s aren't spoken for already, they surely soon will be, and you can bet there are still customers out there keen to take a road less travelled in a Porsche.
For those people, Kalmar Automotive (founded by Dane Jan Kalmar) will be worth talking to. It specialises in Safari-style builds for 964s and 993s called the RS (Rally Special) and RS-R (Rally Special Radical), as well as the same transformative work for Cayennes. Chassis are seam welded, interiors stripped and caged, engines uprated, underbodies protected, expensive suspension fitted – that sort of thing. It also organises events with a sister company Kalmar Beyond Adventure for customers to really test the mettle of themselves and the rally raid Porsches. This gallery is from the latest one, a 39-day epic across South America called the Trans-Andes rally. Given we've all been reminded how brilliant the idea of an off-road 911 is in the past few days, it warranted a closer look.
Covering 11,000 kilometres (or almost seven thousand miles) from Lima in Peru to Ushuaia in Argentina (and not the Ibiza club), the Trans-Andes Beyond Adventure rally took place over 39 days. And every single one of the nine air-cooled 911s completed the journey, which says something of Kalmar's work when you look at the terrain it covered. The trip was described as 'incorporating significant scenery and historical landmarks, all combined with the elements of a classic trans-continental rally', which doesn't sound a terrible way to spend the best part of six weeks. So, naturally, a photographer went along as well, presumably in one of those excellent Cayenne support cars.
We've become so used to 911s setting lap records and carving up canyon roads in recent years that it's a real shock to see them battling dunes, salt flats and swamps. A pleasant shock, it should be said, showing just how capable they can be with some proper upgrades. The teams took in Machu Picchu, the Uyuni salt flat, the Atacama desert and Lake Titicaca, among other landmarks. Kalmar reckons its modifications mean the 911 remains an 'exceptionally comfortable car to use for prolonged periods of time'. And Peru to Argentina certainly is a long period of time.
Expect plenty more big trips from Kalmar Beyond Adventure given the evident success of this one, as well as a few more build commissions and rental requests as well. Cool though a Dakar looks, it doesn't quite seem tough enough to take this on. We'll take an RS-R like the orange and white car here, please, complete with 4.1-litres, 400hp, carbon bodywork and a radiator in the ducktail to prevent it from off-road damage – perfect.