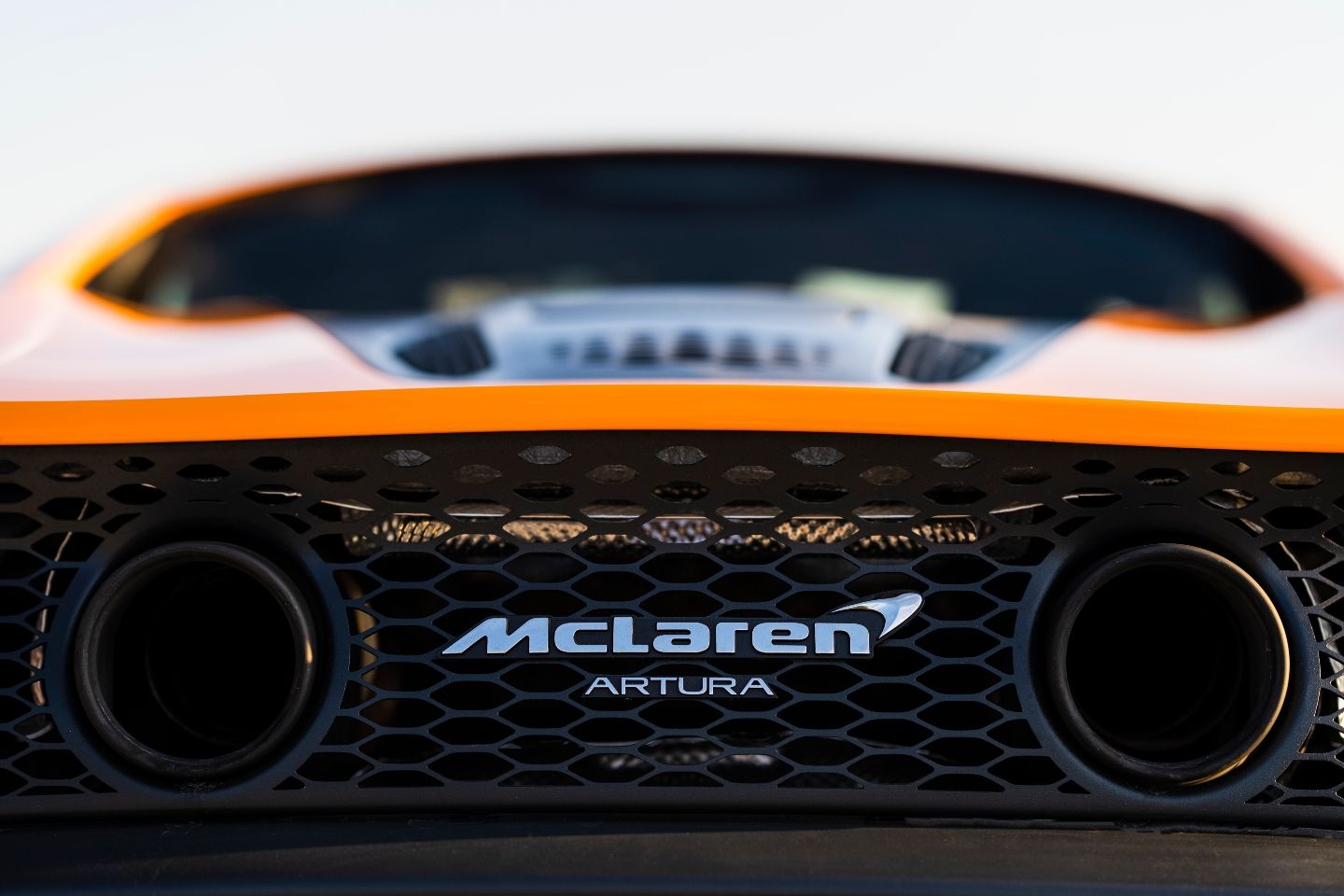 If I tell you the McLaren Artura is all new, take that literally. Don't go thinking 'new' constitutes a tweaked engine, a revised gearbox or a reshaped seatbelt buckle. I mean new new. McLaren's Geoff Grose, the Artura's Chief Engineer, told me that the only things he could think of that are carryovers include some nuts, bolts, washers, and the crank angle and plenum chamber sensor. That's the lot. And because so much is new, it's hard to know where to begin describing it all.
It's just over 10 years since McLaren Automotive was created, and the MP4-12C burst onto the scene. I don't know about you, but doesn't it seem so much longer than a decade or so ago? These days McLaren's road cars feel deeply embedded into the supercar fabric alongside the greats – those two Italian brands, for example. And since the MP4-12C, every McLaren has been built around two staples: a carbon tub, and the  Ricardo-designed-and-built, twin-turbocharged V8 bolted to the back of it. The Artura's newness marks a change: the next generation McLaren Lightweight Architecture (MCLA), and the M630 V6 engine. These two fundamentals will shape McLarens for at least the next decade.
Instead of being made by a third party, the new platform is made at McLaren's Sheffield-based Composites Technology Centre. It integrates the safety cell for the Artura's hybrid battery pack – more on that in a moment – and, while the tub is slightly heavier than before, it's worth pointing out that it now contains more components: as well as the battery cell, it also forms certain aero surfaces, the B-pillars and door-hinge fixings. It weighs 82kg in total and, as you'd expect, it's torsionally stiffer than before. At either end are replaceable, deformable aluminium crash structures, designed to absorb impacts and protect the integrity of the monocoque should you have a wee prang.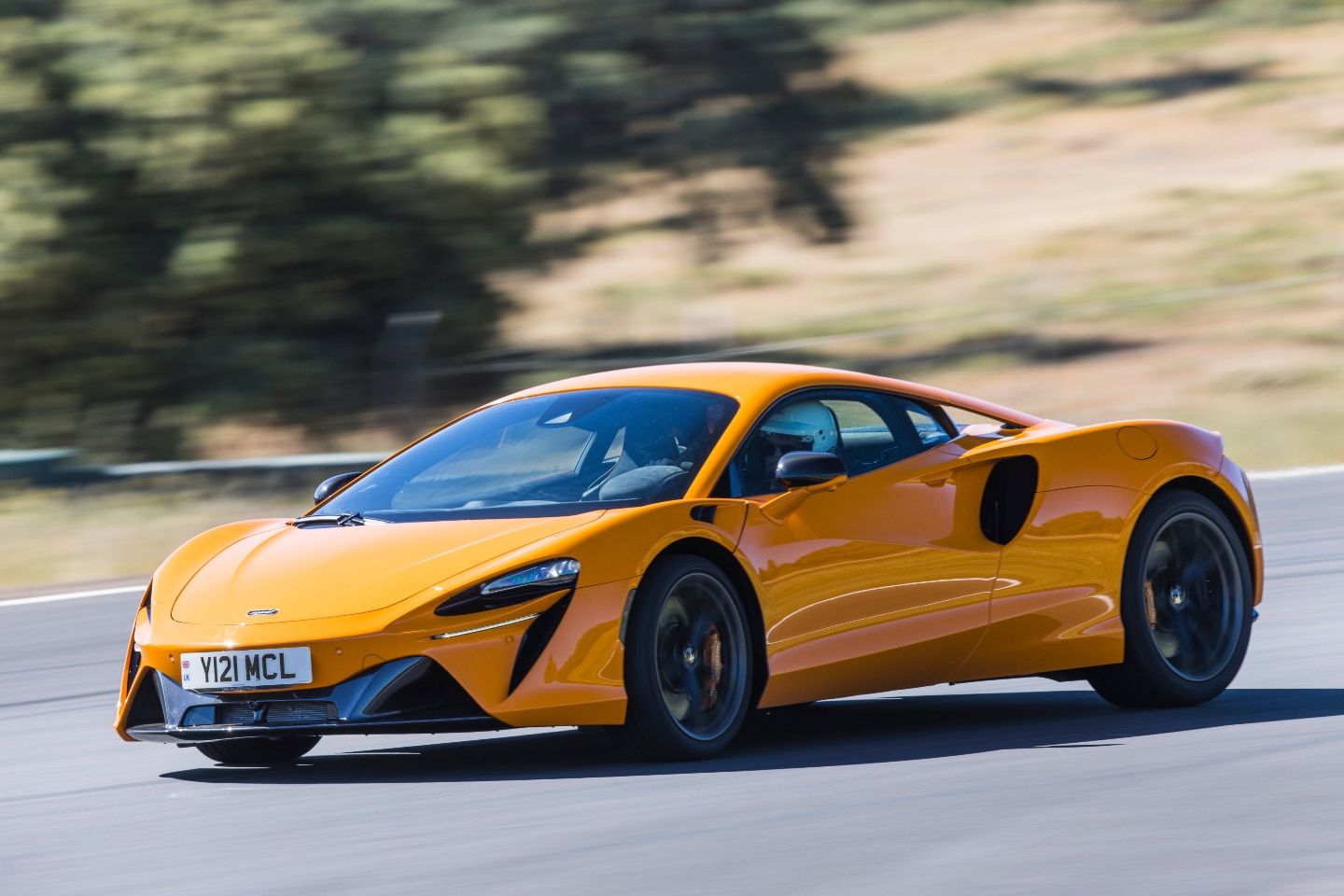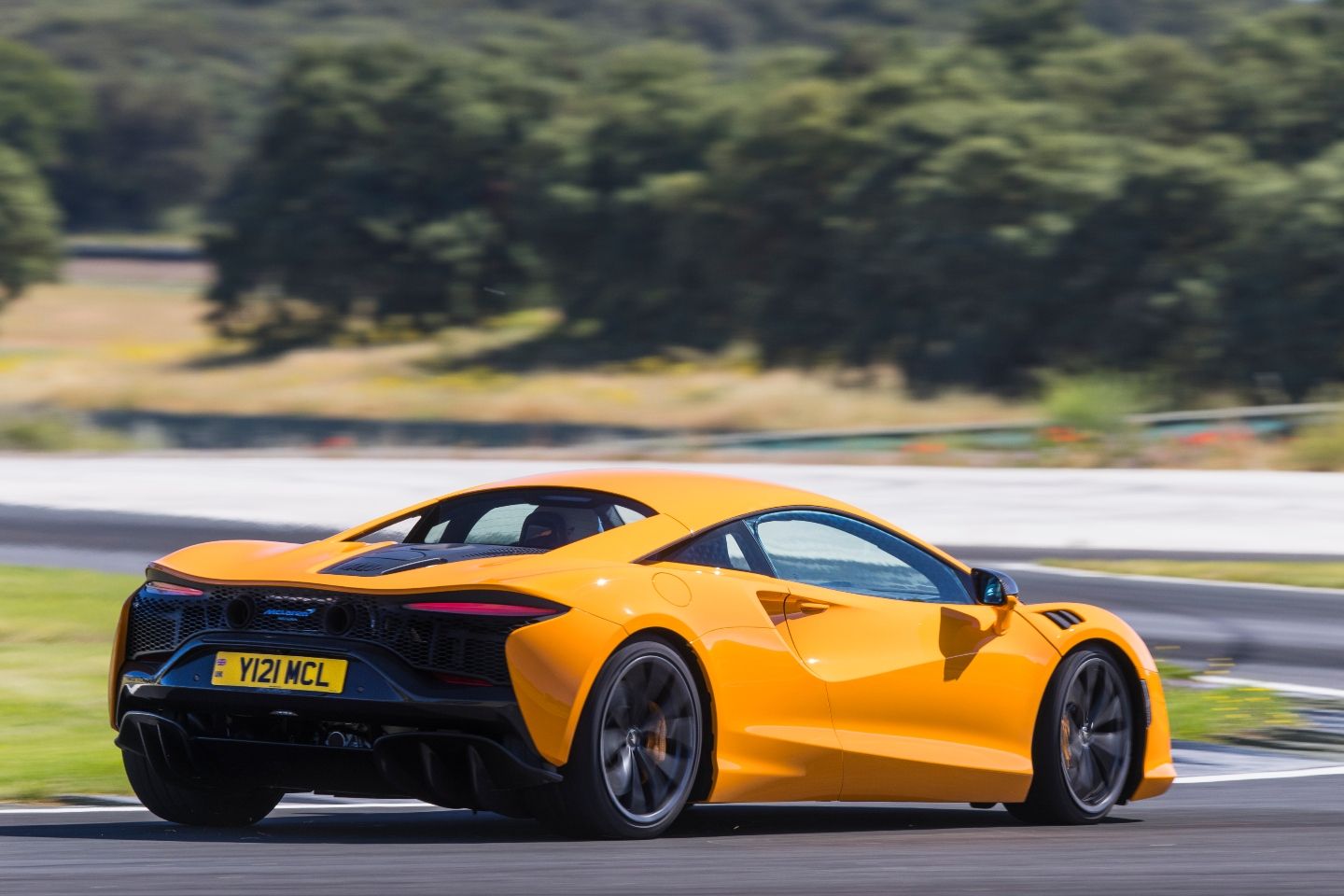 The new V6 is still produced at Ricardo Engineering in Shoreham-by-Sea. Its design mirrors much of what we saw at the launch of the new Ferrari 296 GTB, although don't confuse the two as direct rivals. The 296 GTB is a price and performance rival to the 720S, while the Artura, at £189,250, slots in between the 720S and the GT in McLaren's revised range, which is now shorn of the Sports and Supersports Series. The M630 is a 120-degree 3.0-litre V6 with two 'hot vee' counter-rotating Borg Warner turbos. It almost hits 200hp per litre, with a peak of 585hp and the ability to rev to 8,500rpm. It's incredibly compact when you look at it on a plinth and, at 160kg, light, too – 50kg less than the V8, and that saving helps to offset the weight of the hybrid system.
Obviously, we've seen hybrid McLarens in the past – the P1 and the Speedtail – but here the electric motor isn't on the back axle. It's an axial flux motor ring sandwiched in the bell housing that, again, is very similar to the 296's design. Because it's spinning with the crankshaft, you can add the motor's 95hp directly to the V6's power for a very handy sounding 680hp. The engine's peak torque of 432lb ft and the motor's 166lb ft occur at different points, so getting a combined figure isn't a case of simple addition. What you end up with is a total system output of 531lb ft. Importantly, the motor is adding the torque infill at low revs that bleeds away as they climb, leaving you with a sense of steadily increasing in shove as the V6's twist chimes in, which helps maintain the sense of acceleration throughout the rev range. The motor's energised by a 7.4kWh battery that offers an electric range of 19 miles. You can charge the battery to 80 per cent in around 2.5 hours.
The all-newness continues with the transmission, which is an eight-speed dual-clutch – but with no reverse gear. The motor takes care of going backwards, which saves weight and space in the gear cluster. Also among the firsts for McLaren is the locking e-diff splitting torque side to side. Naturally, this aids traction, but along with the Artura's pinched wheelbase – at 2,640mm it's shorter than the 570S's – it helps get the car turned in to corners. The front suspension is still double wishbones, but the rear is another McLaren first – a move away from double wishbones to a multi-link arrangement. This helps to maintain the rear wheels' toe settings under braking and high lateral loads, to improve stability.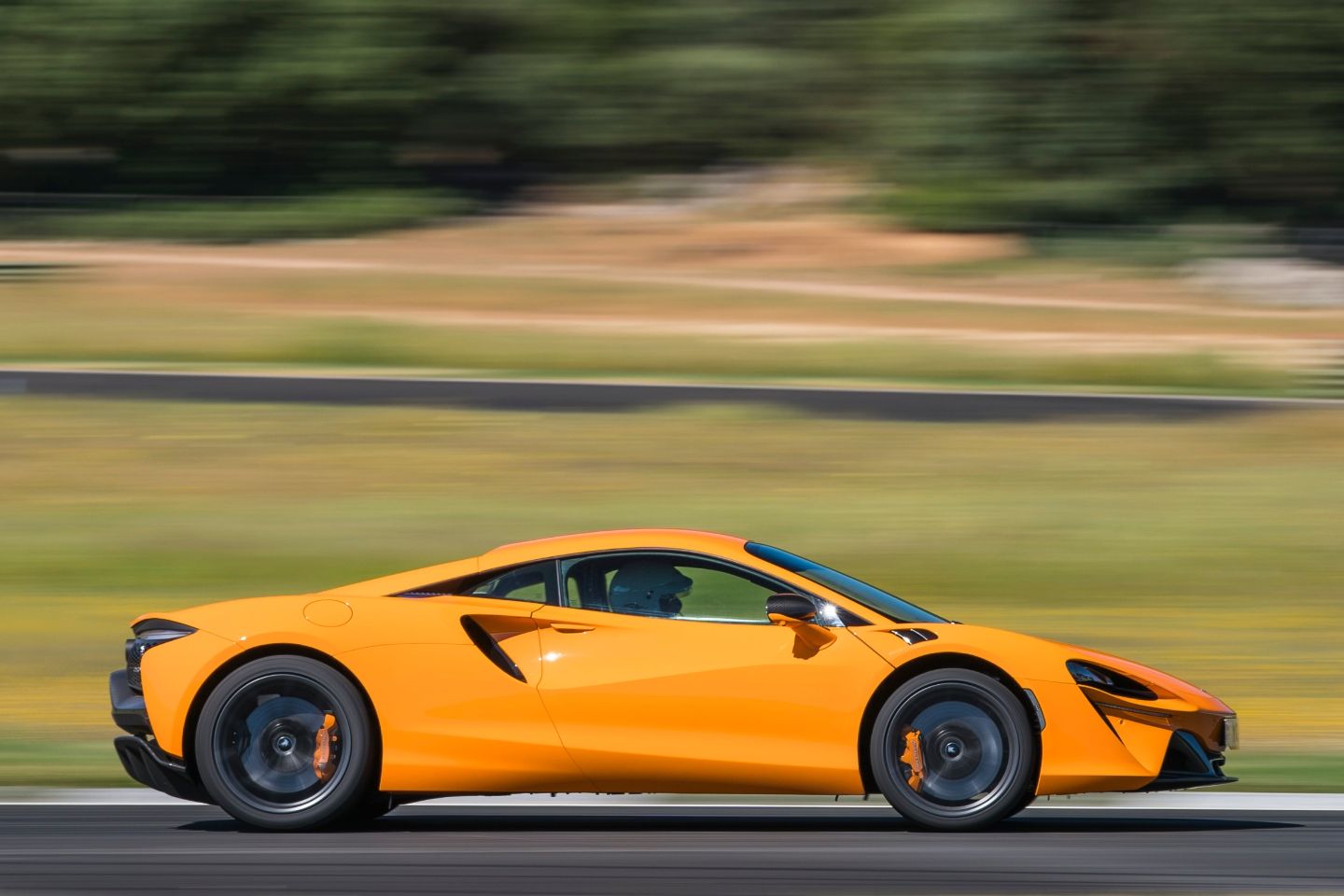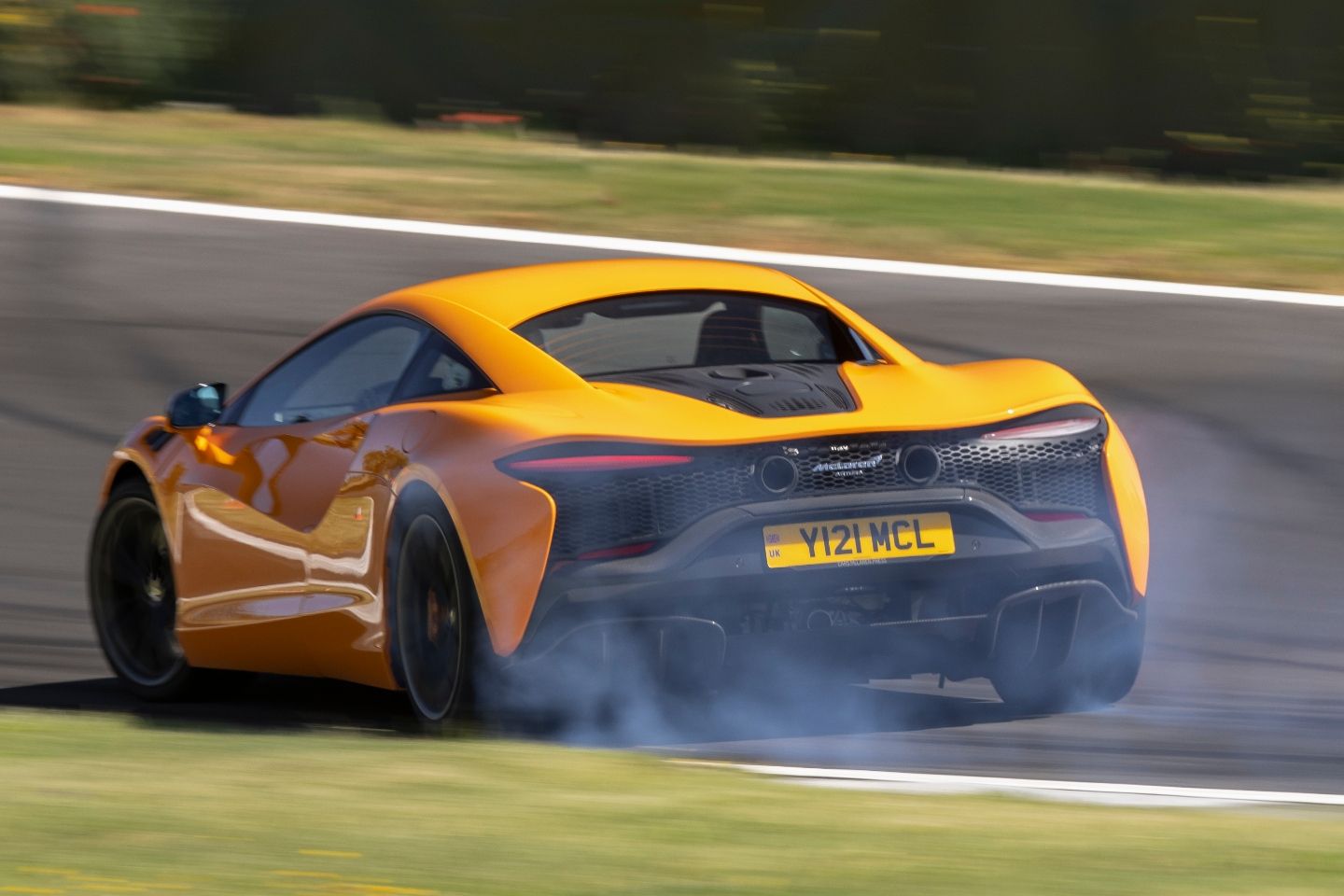 I'll breeze through the rest of the Artura's spec because otherwise you might think you're reading a parts catalogue. Suffice it to say there's a new HVAC system, new infotainment (MIS II), which includes Apple CarPlay, a new ethernet network that reduces the cables – and therefore weight – while also allowing faster processing speeds and the ability to run more demanding features, such as adaptive cruise control and lane assist. It also provides the ability for over-the-air updates.
A very interesting innovation is the Pirelli Cyber Tyre. This uses a sensor fitted to the tyre carcass, instead of on the wheel rim, for more accurate, real-time readings of tyre temperatures and pressures. It's a first for a series production car. The information is used directly by the ESC's brain, so it knows immediately what tyre is fitted when it's bolted on: Pirelli P Zero, P Zero Corsa or winter tyres. Meaning the driver doesn't have do a thing to set it up and no more re-calibrating the tyre pressure sensors. You can select what pressures you want, though, so if you're making adjustments for a track day the TPS alarms won't ping because they pressures are out of range. And because the system knows the temperature ranges for the compound that's fitted, you get simple colour-coded readings on the instrument display telling you if the tyres are too cold (blue), too hot (red) or in the perfect zone (white).
If all this is sounding like a tech overload, McLaren is actually aiming for the opposite. The firm admits that the MP4-12C was a bit soulless; the Artura is meant to be about 'warm' and 'friendly' technology – the sort that enhances, rather than detracts from the driving experience. Even the name, Artura – derived from 'art' and 'future' – represents a softer, more humanised car than the digital model numbering of the past. Has it worked? Is this a McLaren with a heart?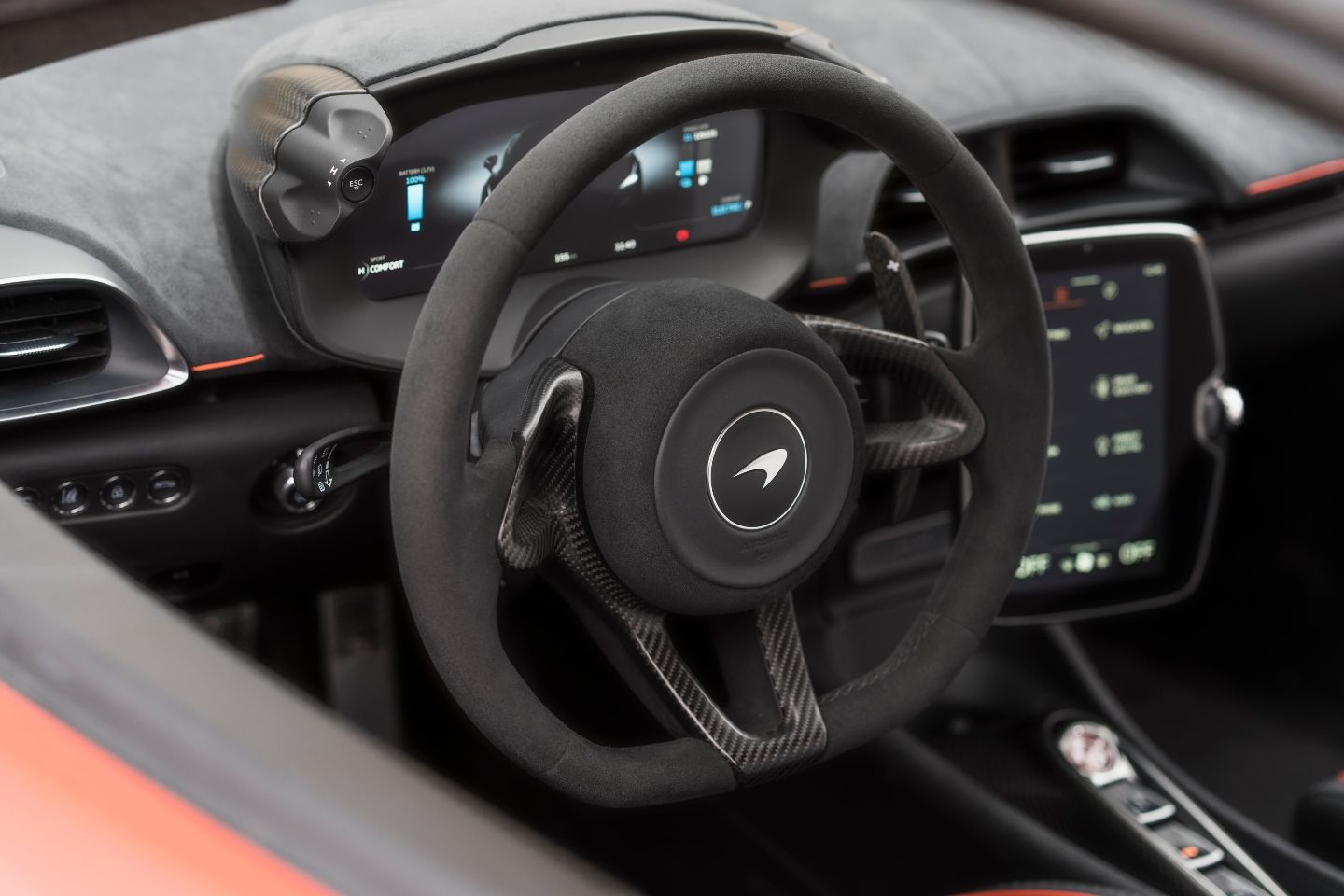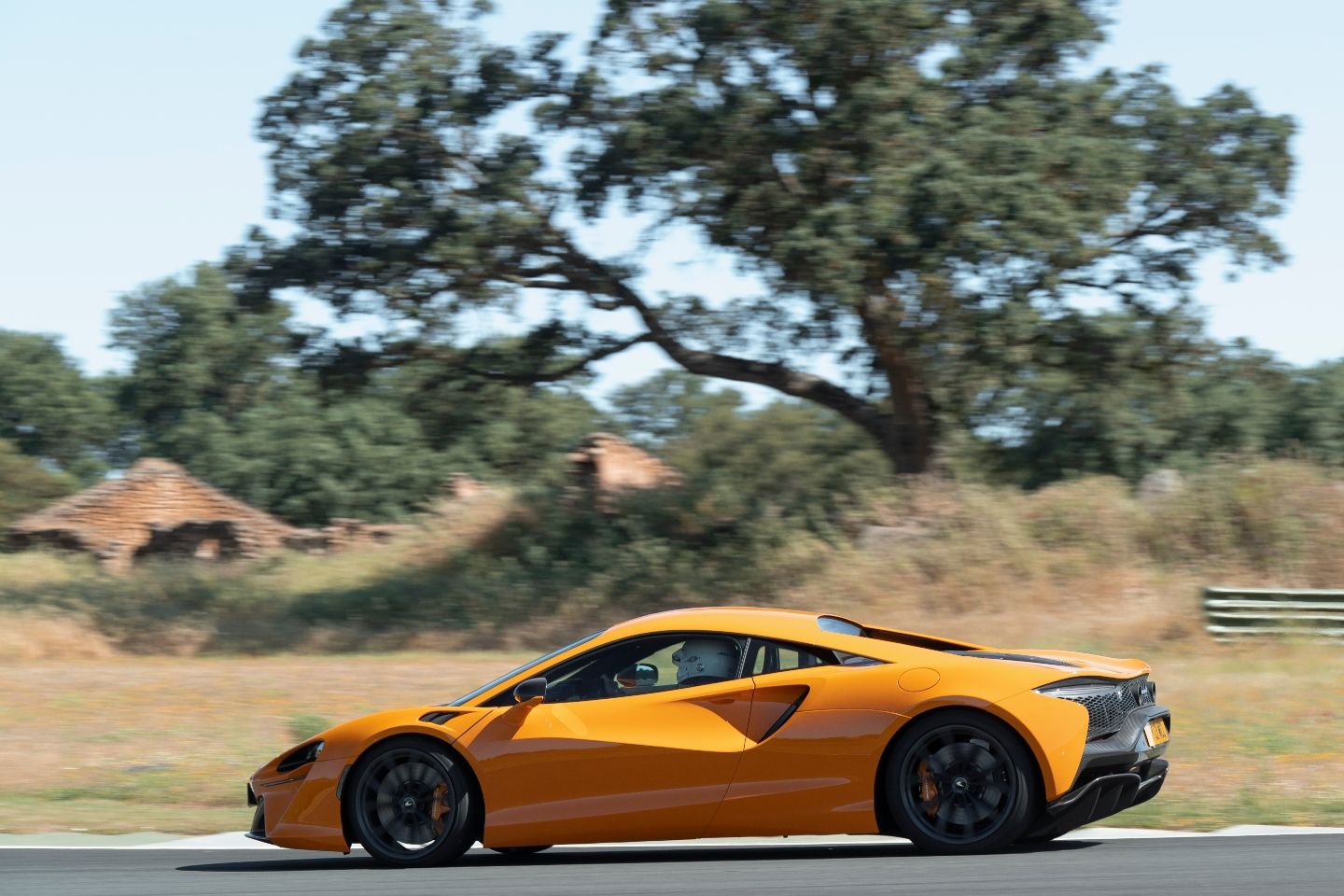 Well, it certainly has a big set of lungs. Its ultimate performance is off the scale, but you don't discover that initially. When you switch the Artura on it always defaults to EV mode, much to the confusion of any bystanders expecting you to vanish with a cacophony of noise. Instead, it whispers off the line and the acceleration is ever so gentle. A real pussycat, in fact – apart from a little brusqueness as you get on and off the 'throttle', and the the occasional lurch as it shifts a gear.
Move the drive mode to Comfort and the engine is used, but sparingly at low speeds, and transitions in and out smoothly enough. Sport and Track are the attack modes. These unite the two power sources in the job of building up speed, and there's a lot of it. The throttle response is much zestier than any McLarens of old, with an instant but manageable hit at low revs. There's still a noticeable heightening of thrust at around 4,000rpm when the turbos are zinging, but it's worth holding out for the 8,500rpm red line because the unyielding rush continues building – albeit it without any top-end explosiveness. The numbers are explosive if you keep pulling gears, which come swiftly if not as slickly as they do with a PDK: 0-62mph in 3.0-seconds dead, and 0-124mph in just 8.3. That tells you all you need to know about just how fast this car is – the latter is considerably quicker than the 570S, and that never felt slow.
So it's mightily quick, then, but does it sound good? At times, yes. From a cold start it does a fast idle with a deep and satisfying note – as the ECU's mapping seeks to warm the cats as quickly as possible. It quietens down after a few seconds and the revs drop, but once you're moving the throatiness returns without becoming overpowering. There's no silliness, either. It's pure sound. No pops from spits of unburnt fuel being fired into the exhaust to liven it up, and no valves that open depending on what mode you're in. I like that. Now, the trouble is it starts to sound quite gravelly and coarse mid-range. McLaren said it mounted the timing chest away from the driver to remove unwanted NVH, but to my ears there's a lot of harsh resonance. Granted, V6s are rarely the most tuneful cylinder configuration, but this one seems particularly inharmonious – the 296's V6 engine is, I'd suggest, a lot more melodic.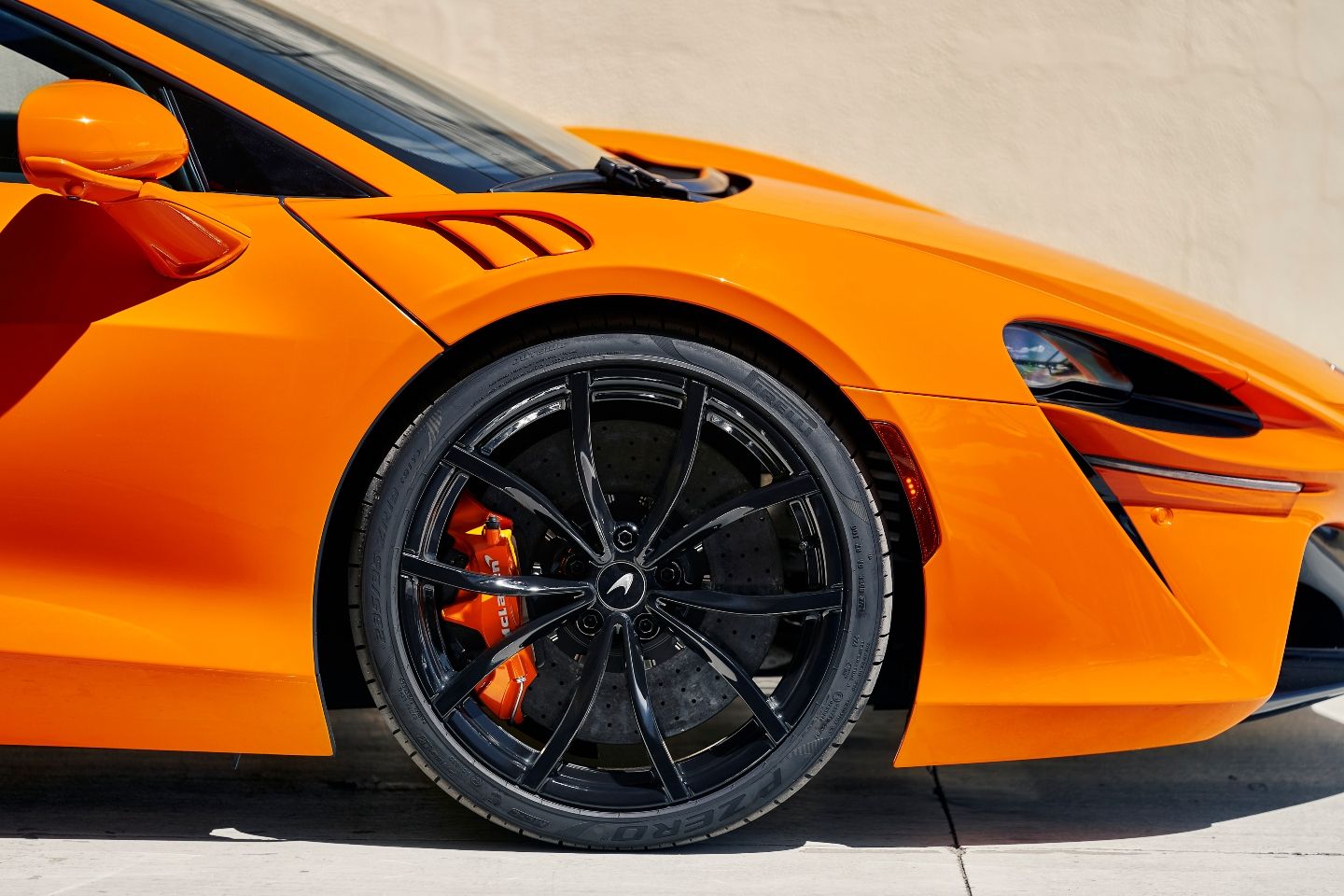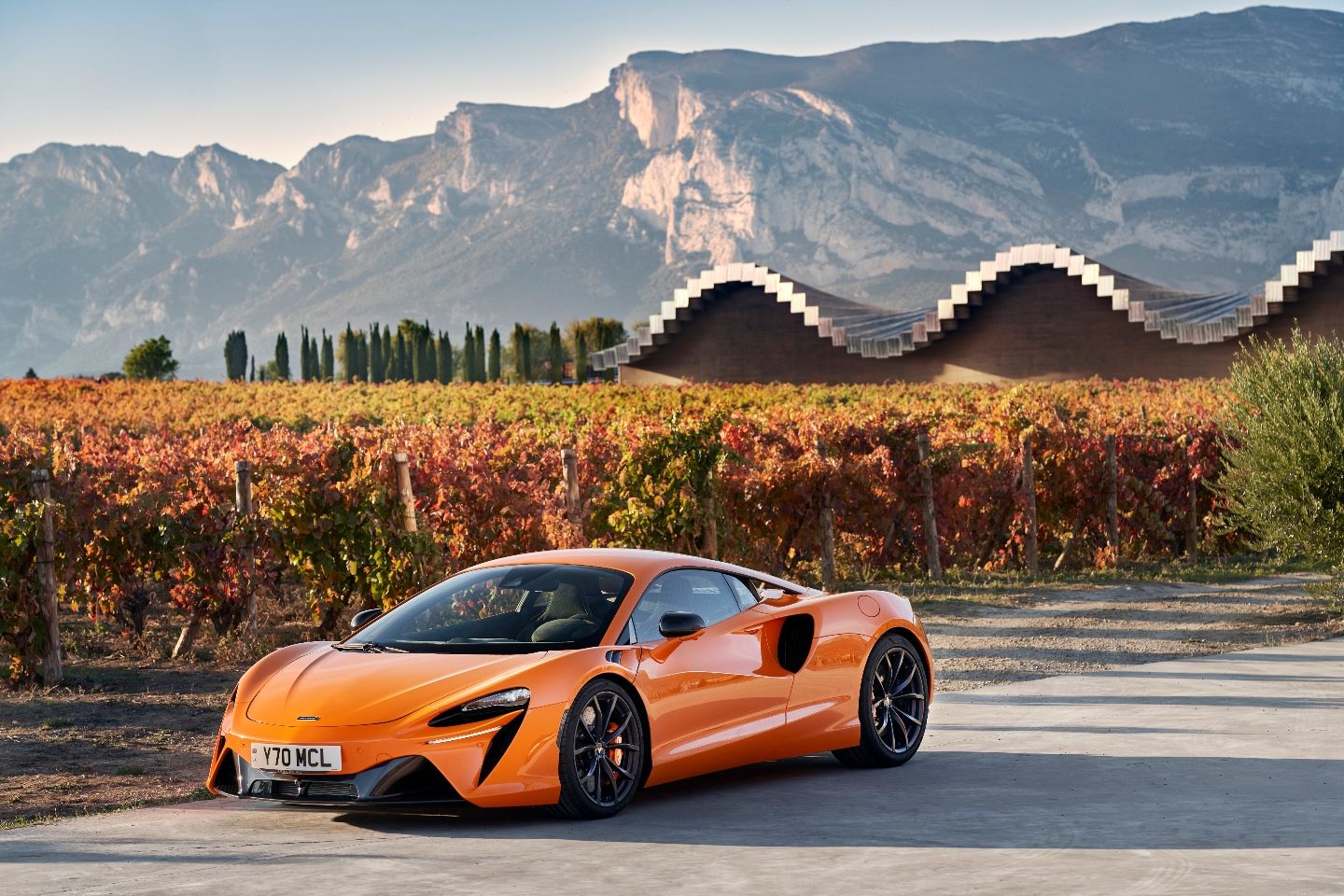 Despite the Artura's clean-sheet design, some old McLaren stalwarts are present. It still comes with hydraulic steering, for example – albeit with a redesigned rack. It still transmits all the goodness of the road surface to your fingers, but there's the odd bit of kickback over bumps, too. I still feel that McLaren sticks with hydraulic assistance more for the theory that it's pure rather than because it's actually the best. A few engineers I've talked over the years tell me that an EPAS system is, in fact, better, because when tuned right, you can keep all the touchy-feely stuff that you want, while dialling out the unwanted elements, like kickback. I wouldn't say the Artura's steering is better than the best EPAS systems, either. It's still good, mind. There's more heft off centre than any modern Ferrari, which suits me – although, being picky, it could generate a bit more as the lock goes on, for a better sense of the lateral forces building. It lightens a touch as you progress into understeer, though, and it's very accurate.
I'd say the brakes could have tad more feel. The standard carbon ceramics are supremely effective and there's no regen corruption – that's separated from the braking system. Yet the pedal's a bit wooden with a light touch and a little spongy when you press harder. Now, I'm being doubly picky here, but I think that's justified when assessing a £200k supercar. The pedal could just be a tad firmer for my liking.
I've no issues with how the Artura turns, though. It's very on the nose and agile, without ever straying into flighty, which would hinder your rhythm. Along the glorious roads we encountered heading out of Malaga toward Ascari, the car really flowed. The three-stage adaptive dampers do a fine job limiting vertical extensions in the Comfort setting, although, as the terrain grew more challenging, I did start to notice the odd extra half bounce here and there. That's all but removed in Sport, which still leaves you with some real-world compliance. The Track mode doesn't, but the clue there is in the name. Comfort mode, by the way, isn't just compliant in respect of handling; the Artura rides like a sporting GT should: taut yet forgiving. It doesn't quite have the exquisite elasticity of the very best-riding supercars – and some of those have sprung from the factory doors at Woking – but the point is it's comfortable.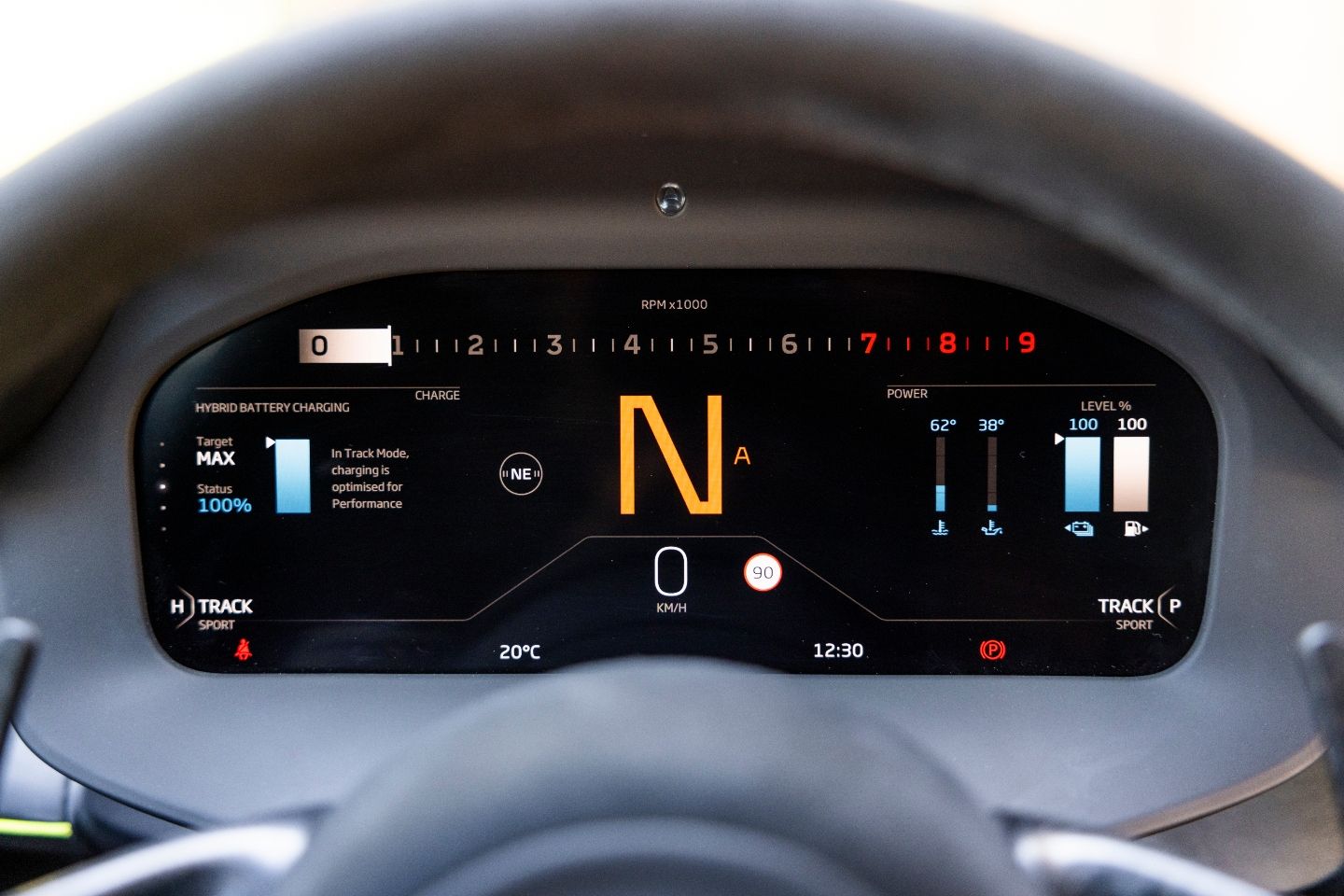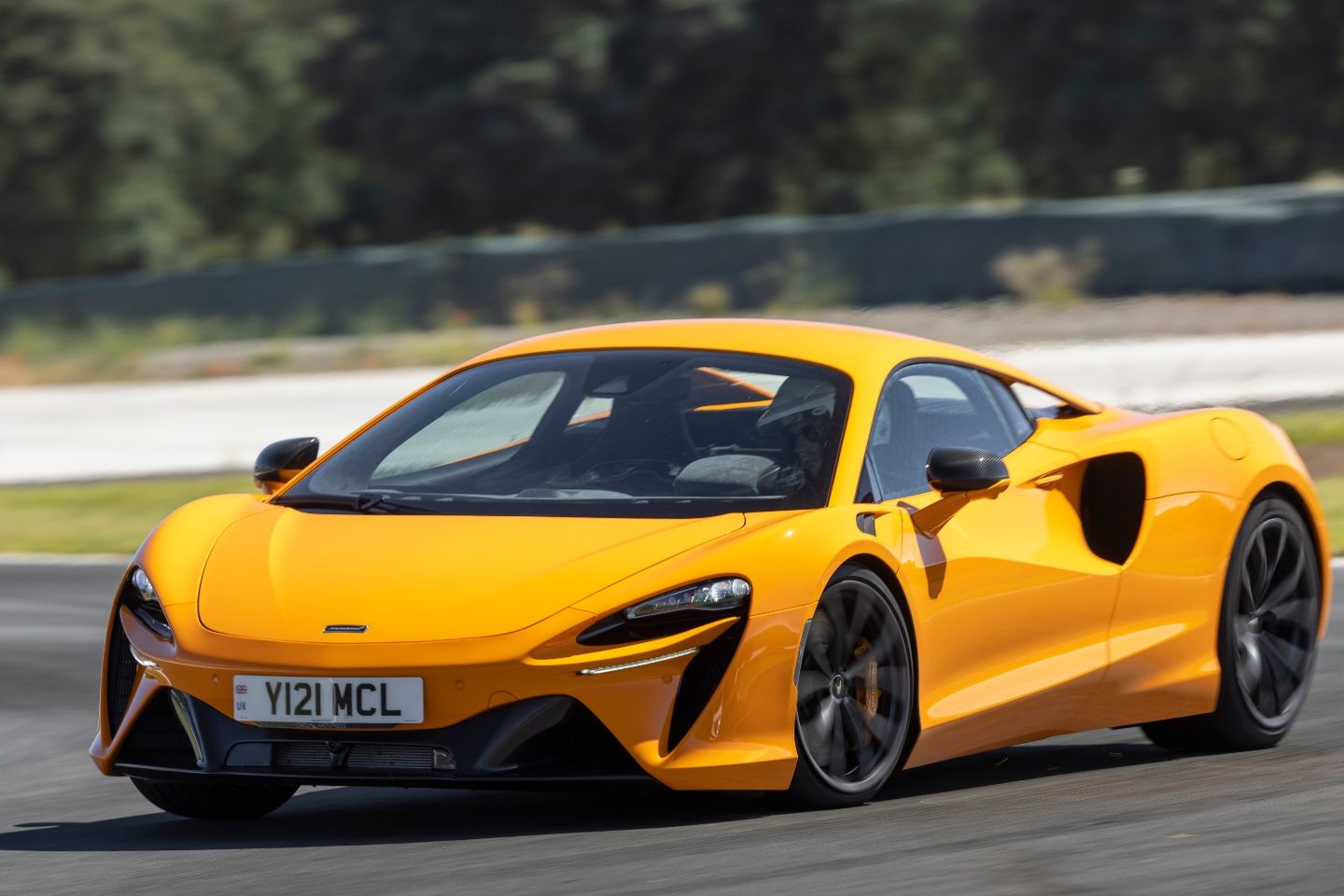 At slow speed I had what felt like an issue with the e-diff over locking. Every now and again, I'd roll on the throttle gently – mostly this happened as I was pottering through a town – and the rear would wander as if the diff was clamped. It could've been the surface, as McLaren suggested, but it happened a few times and many miles apart, so my sense is there was possibly something amiss with the car.  But it never happened at high speed, and the traction at all other times was superb. So much so that I stuck the ESC into Sport (this offers a variable drift control) and adored the predictable slip angles that could be conjured flying from the exit of one corner to the next. The Artura moves around but doesn't feel loose, and it's a real testament to the new model that you feel comfortable to get on it so quickly.  
It's a fine track car, too. The first of my twenty-minute stints around the Ascari circuit was spent learning it at a relative snail's pace. I've never been gifted the ability to learn tracks quickly so I spent most of session one wondering what was coming next. At Ascari, often it's not what you expected. The track is nearly 3.5-miles and contains about 20 corners (many of them blind and some with little else except an imposing wall or an even more imposing oak tree on their outside) that mimic some of the greatest turns from racetracks around the world.
I had a slightly better idea the second time round, and, where I was sure that I'd pop over a crest and be met with a straight rather than an immediate hard left, could build speed and smoothness. The car responded beautifully. Everything that I'd gleaned from driving it on the road translated to how it felt on the track, which speaks to its consistency. It still turns fervently, carries great speed and retains a confidence-inspiring mid-corner balance. The supportive traction gives you a great toehold under power, too, providing you treat the torque curve with respect.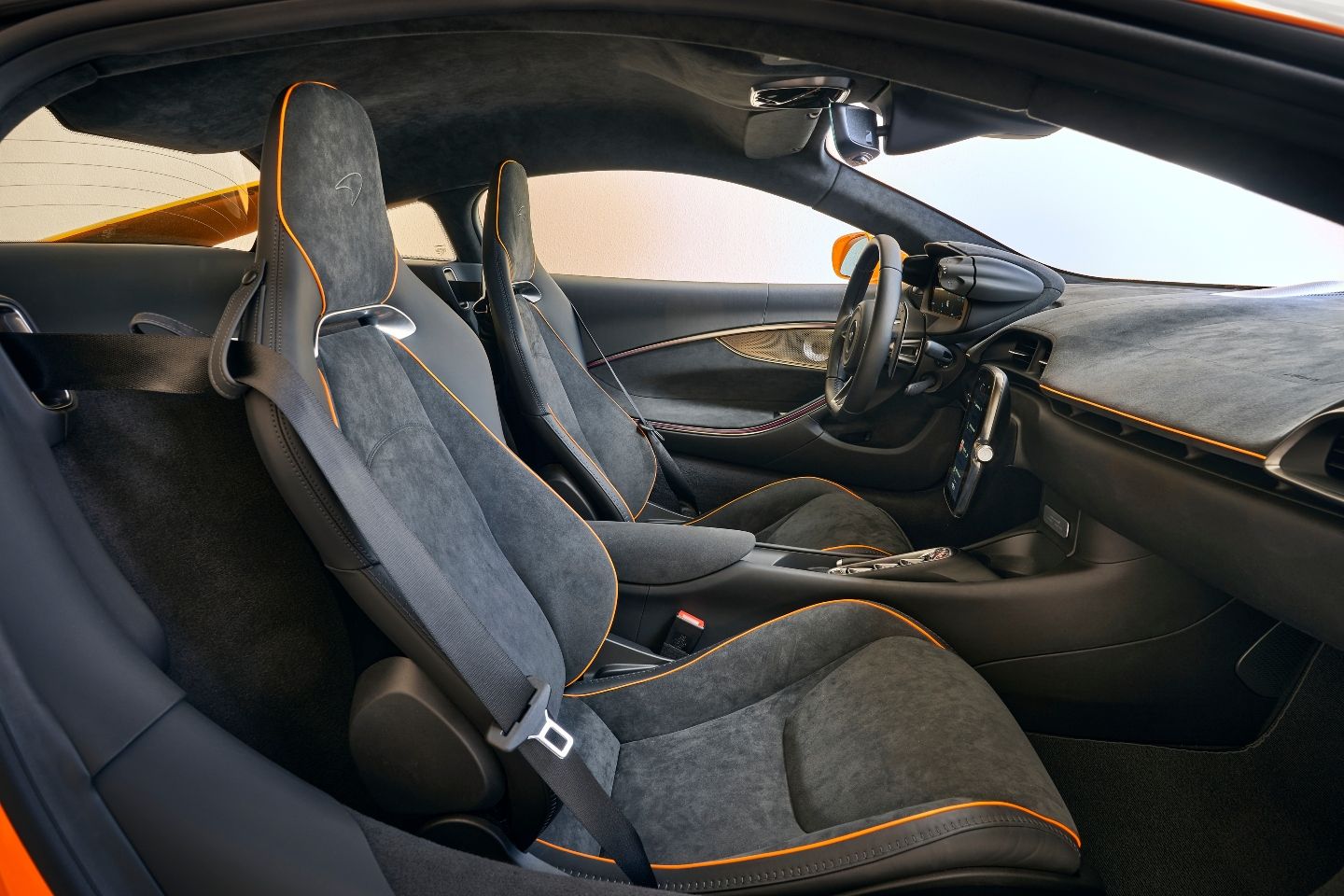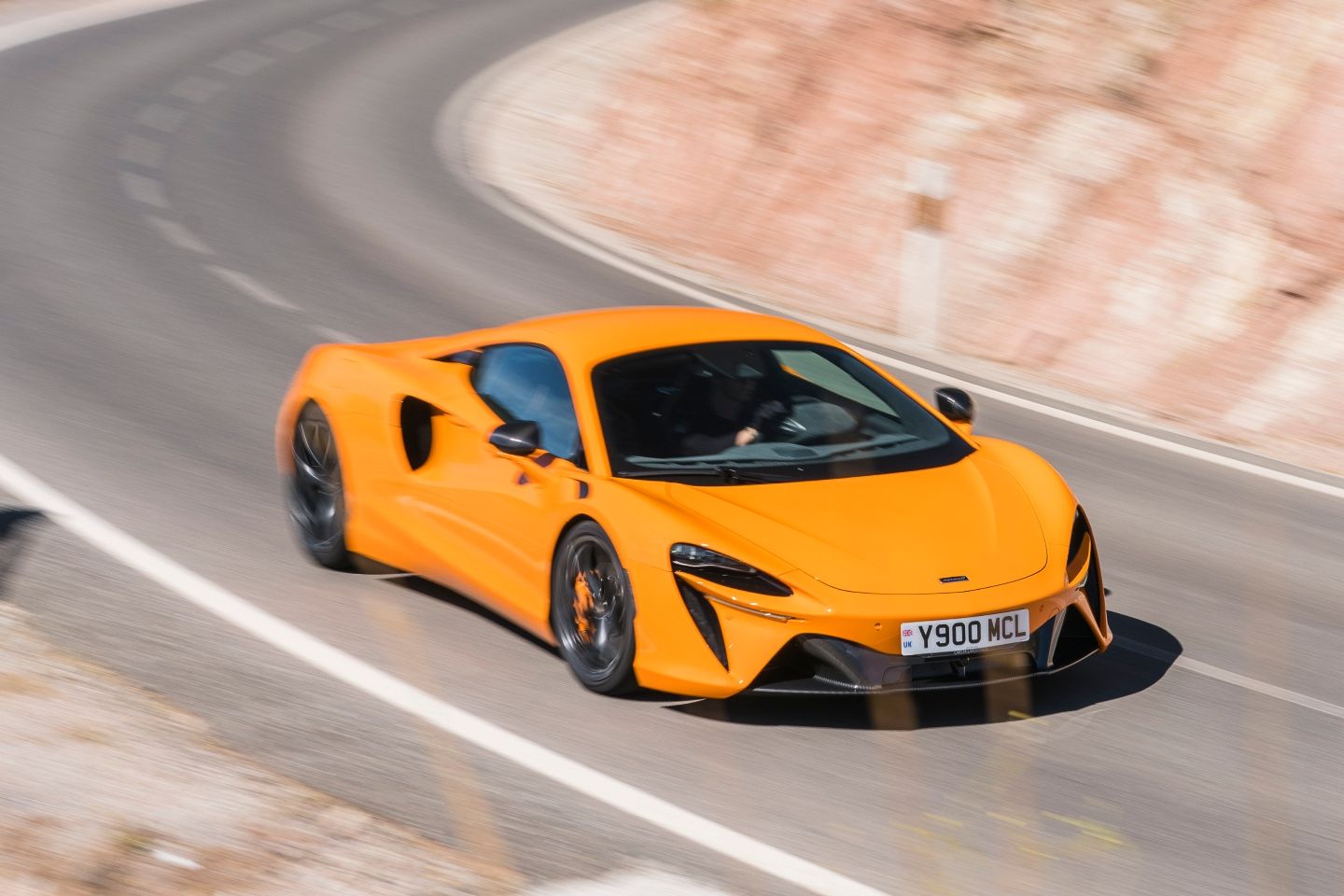 Dynamically, it's extremely capable, then. There are other things I liked about it, too. The looks for one. It's shrink-wrapped and pretty in the flesh, without trying too hard – a simple form, free of aero topography. I asked Darren Goddard, McLaren's Exectutive Director for Programmes and a company veteran, which is his favourite part, and he said the one-piece, superformed aluminium clamshell, because it saves weight while looking cleaner. It does away with the multiple sections and materials employed on the past models. The same is true of the doors, which are also have a superformed ali skin. I think it's the most harmonious McLaren design since the 570S, which I liked very much, and I'm pleased it doesn't follow the 720S's features, which I've never warmed to.
I also like sitting in the Artura because it feels so small. Everything else these days feels ever bigger and heavier with every iteration, but the Artura feels compact without feeling cramped. It's just right on space; I had all the room I needed. It's still a bit awkward getting in and out, mind, thanks to the positioning and size of the A-pillar. But once inside, the ergonomics are better. All the driving modes are altered from toggle switches either side of the instrument binnacle, which moves with the steering wheel so you always have sight of it. The rest of the driving position is great – perhaps, with the exception of the break pedal, which was a bit too far right for left-foot braking. Still, the car I was in was a left-hooker, and maybe a right-hand-drive car will solve that foible. I also thought the infotainment seemed easy to interact with, and the materials inside felt like a step up from what we've seen so far from McLaren.
There were issues, though. I've already mentioned the oddities of the diff. Maybe that wasn't the Artura's fault, but that fact I was melting in the Spanish heat was. The HVAC system had several bugs, the worst of which being its refusal to open the vents for most of my two-hour road drive, so I had the windows down for most of it. It wasn't just me, either. Everyone I talked to on the launch had something go wrong with their car, too. That's far from ideal when the original launch, scheduled for last October, was curtailed because of software problems. It doesn't seem unreasonable to assume that everything would be perfect (or as close to perfect as things get) after another eight months of unintended development.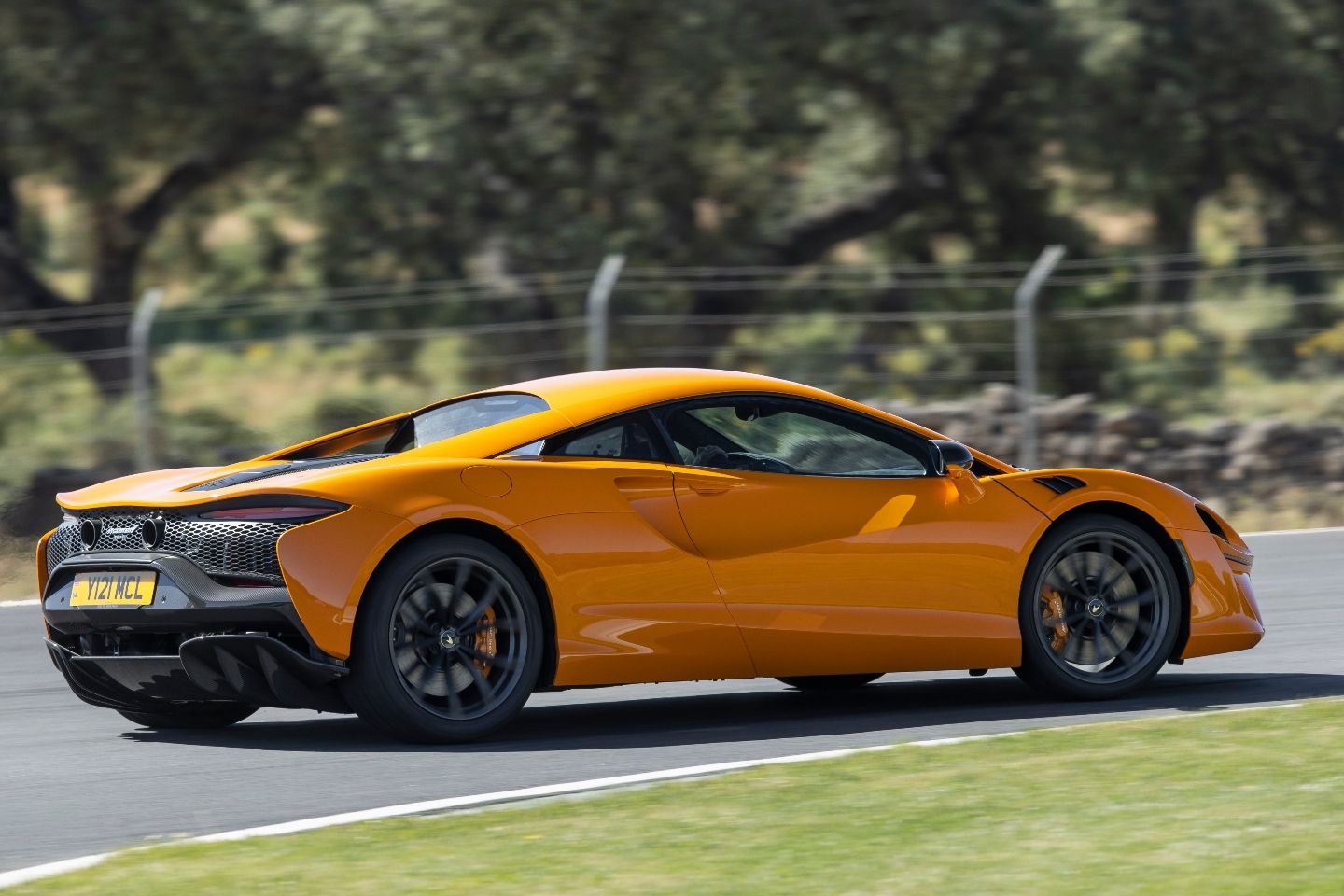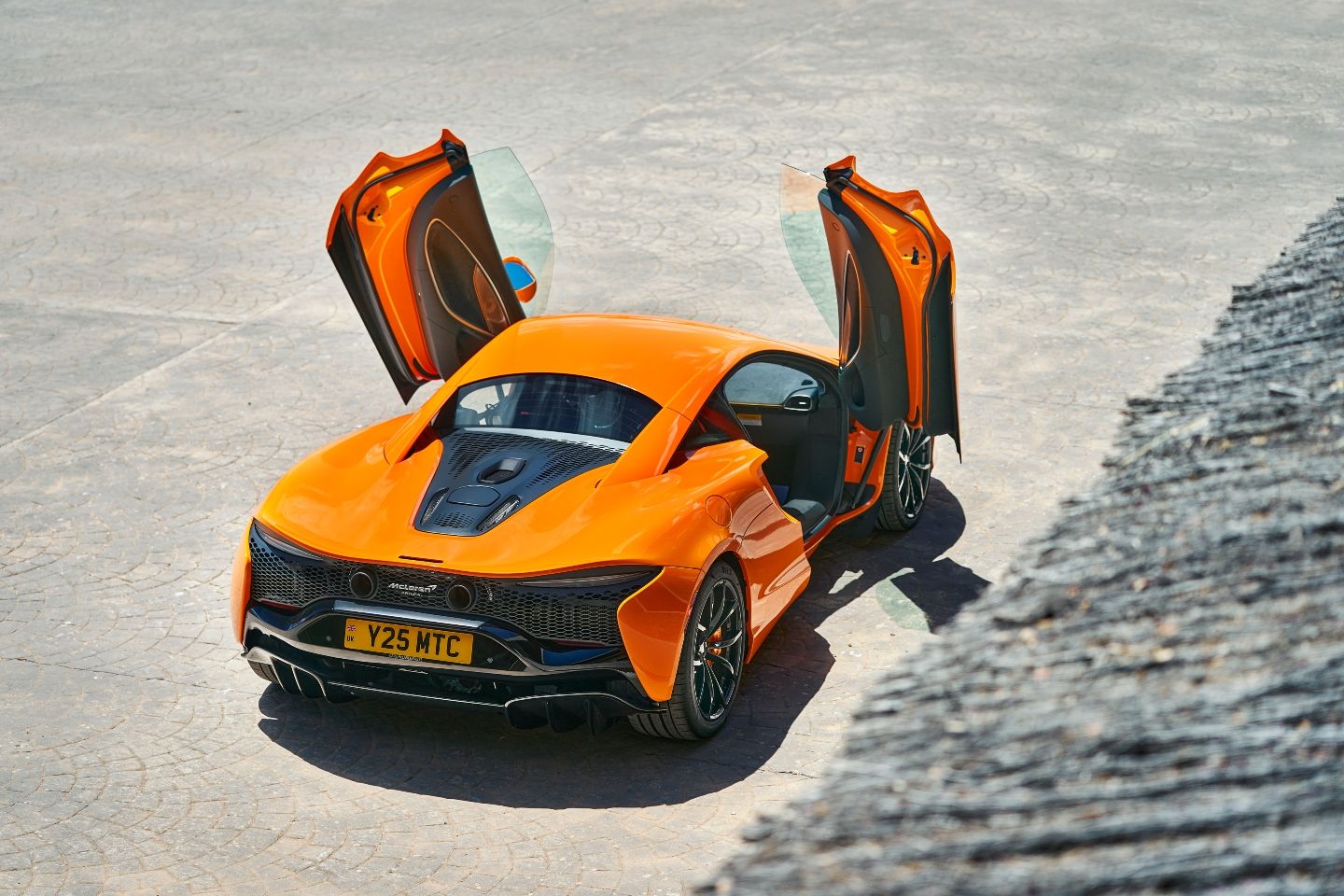 I'm sure these issues will be sorted in time, and there's now a five-year/75,000-mile warranty to add some piece of mind, too. Nevertheless, for all its obvious talent, I'll admit to being left a little cold by the Artura. This is totally subjective and you might think quite differently after a spin, but as much as I admired it as an engineering achievement, I just didn't find myself wanting one. This is a £200,000 supercar, after all – you ideally want to return from Spain fizzing about it, and chomping at the bit to own one. Now, to be fair, I wasn't desperate to own a 296 GTB after I drove that, either. But it did seem a bit more polished, and with a more characterful engine. I think that's the bit that ultimately lets the Artura down for me – it just doesn't sound like my kind of supercar. 
Added to that, I think I might also be a bit fed up with torque-infill and blistering, instantaneous pace. Technically it's brilliant, of course, but the week before I drove the Artura I'd spent the best part of a week in the outrageous but still fabulous Lamborghini Aventador Ultimae. It reminded me of how genuinely exciting supercars can be, and that it's not just output that's important, but how it's delivered. That's an 800hp car, yet, with its peaky shove, I was able to enjoy it on the road while staying closer to the thin blue line. And don't get me started about how great it sounded. I appreciate that's all old hat now, and electrification is inevitable and McLaren has delivered a supercar that befits that requirement – but surely it could still be tuned to deliver an old-school feel, couldn't it? Granted, the Ultimae is much pricier than the Artura and it's sold out anyway, so that's not an option. The Huracán is, though. And that's what I'd spend my £200,000 on: a supercar with V10 soul. Grab it while you still can.
Specification | McLaren Artura
Engine: 2,993cc, V6 twin-turbocharged, plug-in hybrid
Transmission: 8-speed dual-clutch automatic, rear-wheel drive
Power (hp): 680
Torque (lb ft): 531
0-62mph: 3.0secs
Top speed: 205mph
Weight: 1,498kg (DIN)
MPG: 61.5
CO2: 104g/km
Price: £189,200
Price as tested: N/A