Electric Vehicles (EVs) are gaining a lot of attention as of late for many reasons, including the high price of gas now. However, when it comes to captivating onlookers and proving to have an EV that follows a different path than the rest, Hyundai seems to have the jump on everyone else just by looking at vehicles like the all-new Hyundai Ioniq 5.
Be sure to check out a quick exclusive drive video from our friends at EV Rider at the end of this review.
The new 2022 Hyundai Ioniq 5 is something fresh that takes on a new retro styling approach but has the necessary substance underneath to be a welcomed EV with surprising performance and build quality that rises above some of its long-standing competition.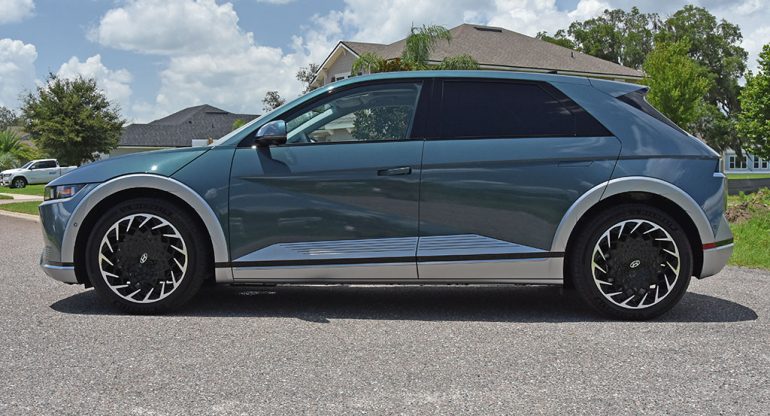 Utilizing a platform that's shared with other EVs in the Kia and Genesis landscape, the Ioniq 5 is unique in its own right in that it has a boxy Tetris-like look with straight-lined angles, squared-off LED lighting elements, and pixelated LED lights out back giving it somewhat of a retro look that garners plenty of attention. The rather long wheelbase gives it a smooth ride quality while the interior proportions are spacious and put such a vehicle in a space where it can legitimately compete with hatchbacks, sedans, and crossover utility vehicles. You'll certainly be noticed in the new Ioniq 5, especially the Digital Teal-painted test vehicle of mine that appears to change colors depending on which direction you look at it.
Performance and Driving Character
Powering the new Hyundai Ioniq 5 are a variety of choices from the base standard range model's rear axle motor producing 168 horsepower and 258 lb-ft of torque to power the rear wheels with a range of 225 miles out of its 58-kWh battery pack. Moving from the base standard range rear-wheel-drive (RWD) model there's an extended range RWD model with 225 horsepower and 258 lb-ft of torque that has a range of 303 miles from a larger 77.4-kWh battery, which is the highest range option for the Ioniq 5. For my top-trim test vehicle, you have an all-wheel-drive (AWD) setup that only comes in "extended range" form with the 77.4-kWh battery but two motors work to power both axles for a total of 320 horsepower and 446 lb-ft of torque and get an estimated range of 256 miles on a full charge.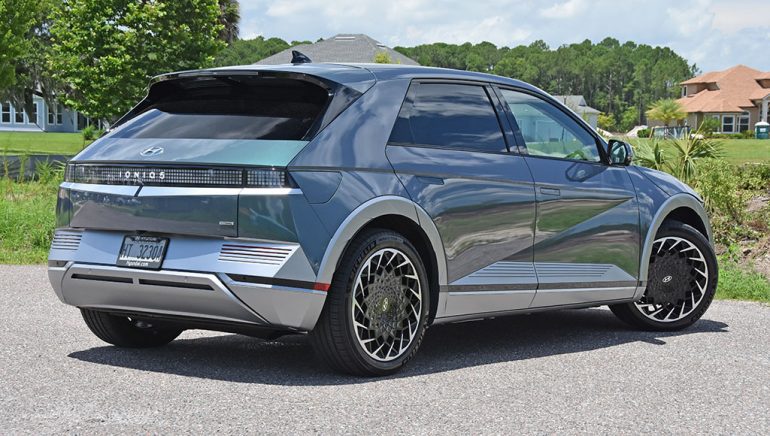 Having the AWD Ioniq 5 and the two motors, one on each axle, there's a substantial amount of grunt in having the instant torque from a stop yielding a shocking 4.5-second run to 60 mph. There are a total of three drive modes, Eco, Normal, and Sport, in addition to a Snow mode that can be enabled if you hold down the drive mode button that's mounted on the flat bottom steering wheel. In the Eco mode, the vehicle is more reserved and full power output is never achieved even when you floor the throttle. In Normal mode most of the power is accessible, but in Sport mode, it feels like full throttle is the real deal. The steering feel is mostly numb and on the light side even in Sport mode.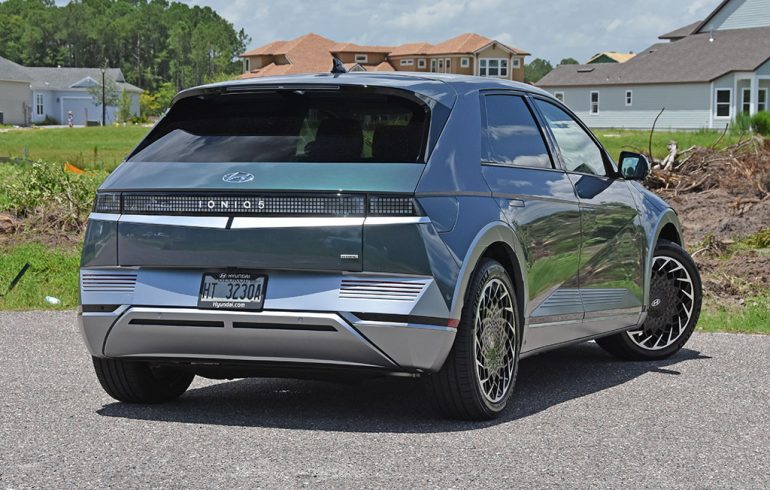 There's a myriad of regenerative settings cleverly accessed by steering wheel paddles with 3 levels of regeneration, in addition to an OFF setting, an automatic setting, and an i-Pedal setting for one-pedal driving. Using Level 1 of the regen seems more natural while Level 2, Level 3, and the i-Pedal (1-pedal driving) modes enact the brake lights upon letting off the throttle with a substantial amount of deceleration. The i-Pedal setting is a true use of just the throttle and will bring you to a complete stop upon letting off as if you were moderately applying the brakes. The overall feel of the braking from the motor's regeneration to the friction brakes feels seamless most times. There is a bit of a learning curve when you do utilize the regen levels outside of Level 1 and the Automatic mode, which smarly adds regen braking automatically at varying levels when it detects you approaching a vehicle in front via the front radar. In the automatic mode, when a vehicle starts to speed up the regen braking automatically lets off. More smart thinking, here!
Out on the open road, the Ioniq 5 feels well planted with a smooth suspension setup from its fixed dampers that often has a little reverberation when going over road dips and rises. Otherwise, the Ioniq 5 handles surprisingly well, which is in part due to its surprisingly large wheels and tires, uniquely styled 20-inch wheels wrapped in 255-width Michelin Primacy tires. The Ioniq 5 feels a bit heavy, which may be part of the deception from its looks as it appears to be a smaller vehicle until you see it up close or jump inside. There's a shocking large mass in the Ioniq 5, one that weighs 4,662 pounds in my test vehicle's configuration.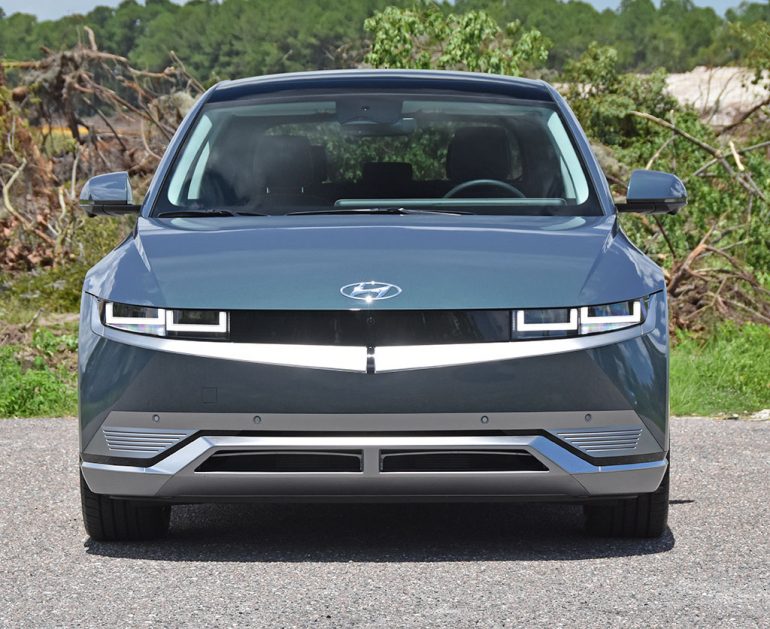 Electric Consumption and Efficiency
The new Hyundai Ioniq 5 falls in line with its competition when it comes to efficiency. However, where the Ioniq 5 excels is its ability to charge faster than most taking advantage of its 800-volt architecture legitimately taking only 18 minutes to charge from 10% state of charge up to 80% using a 350 kW DC fast charger. I was able to test out the charging ability of the Ioniq 5 at a local Electrify America charging station where I saw a peek of 236 kW and sustained such a peek for just over 10 minutes.
After nearly reaching an 80% state of charge the kW rating started to decline to about 128 kW and then taper off around an 88% state of charge. I did notice that during my charging session, which took place in 88-degree (F) weather, there was a welcomed sustained wattage to keep on pace for a full 100% charge from 80% in under 25 minutes. Usually, you see the 80% to 100% charge cycle to take an hour or more in many new EVs currently on the market.
Hyundai has changed the outlook and perception of EVs in having a vehicle that can charge so fast under ideal conditions while using a 350 kW DC fast charger, which is often hard to come by in the current state of our poor EV charging infrastructure. However, Electrify America and many other companies hope to change that very soon – which is greatly needed if we plan on having EVs fit into the traditional American lifestyle.
Hyundai provides a wall charger for those times you may need to "slowly" top-off your charge or add a few miles when you don't have access to a Level 2 charger. Charge times using the included charger plugged into a standard 110-volt household outlet at the max 12-amp setting you'll add about 3 to 5 miles of range for each hour of charging. If you do plan to use the maximum 12-amp setting you must manually change it from the default 6-amp setting on the box of the plug-in wall charger unit.
As far as MPG-equivalents, my AWD Ioniq 5 gets an EPA-estimated 110 MPGe city, 87 MPGe highway, and 98 MPGe combined. Those figures improve slightly with the RWD lower trims (city/hwy/comb. – 127/94/110 standard range RWD – 132/98/114 extended range RWD). I often saw an average of 2.8 kW per mile around town and as much as 3.1 kW per mile on the highway.
Interior and Tech
As a mainstream EV, the Hyundai Ioniq 5 embarks on a journey to help pivot the thinking surrounding EVs. I can say with certainty that the needle has been moved by vehicles like the Ioniq 5 in having the proper tech, interior accommodations, and welcomed driving character. To top it off, the interior of the Ioniq 5 is inviting and mostly premium in its accommodations and equipment. There's a vast amount of seating space up front and rear seats that slide forward and back and recline a good amount. The flat floor aids to make the cabin feel airy and accommodating.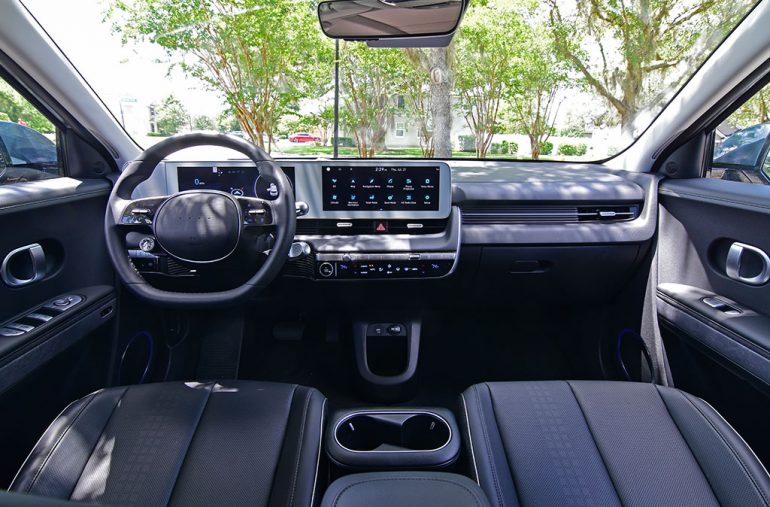 Using the matching-sized 12.3-inch screens for the digital gauge cluster and infotainment touchscreen and user-friendly interface found in most modern Hyundai vehicles add to the appeal of the Ioniq 5 with no unwanted surprises. There's Apple CarPlay and Android Auto integration but only through a USB connection.
There are several core function physical buttons but below are touch capacitive buttons for the automatic dual-zone climate controls, including access to the climate menu and ventilated and heated seats setting. The touch capacitive buttons are easy to reach but do require an extra second of focus to ensure you are pressing the correct area, which may take a bit of focus off the road for the driver.
There's a neat option of using a relaxation seating position on the driver's seat that can recline far back with a power leg rest that folds out, which is thought to offer a comfy position for when you are charging up the vehicle. Otherwise, the seating positions are good and comfy for five inside the Ioniq 5.
Cargo space is somewhat on the smaller side out back without much extra under-floor storage. Also, under the hood there's no large frunk (front trunk) storage that many EVs include, only a small plastic opening bin with limited space.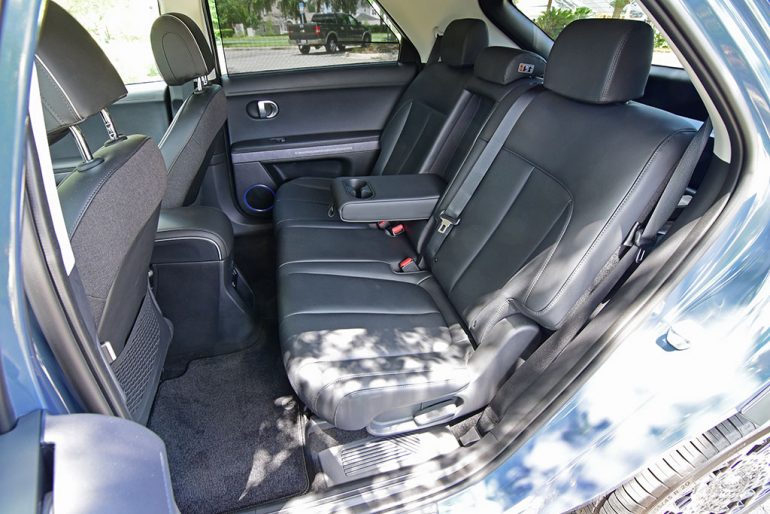 I did enjoy the proximity key function for automatically unlocking the doors upon walking up to a locked vehicle. Doing so automatically popped out the door handles as they are normally flush with the body to prevent additional drag or wind resistance when driving. You can manually push and grab the handles as there is no need to worry about failing of the mechanism. Again, more smart thinking on Hyundai's part.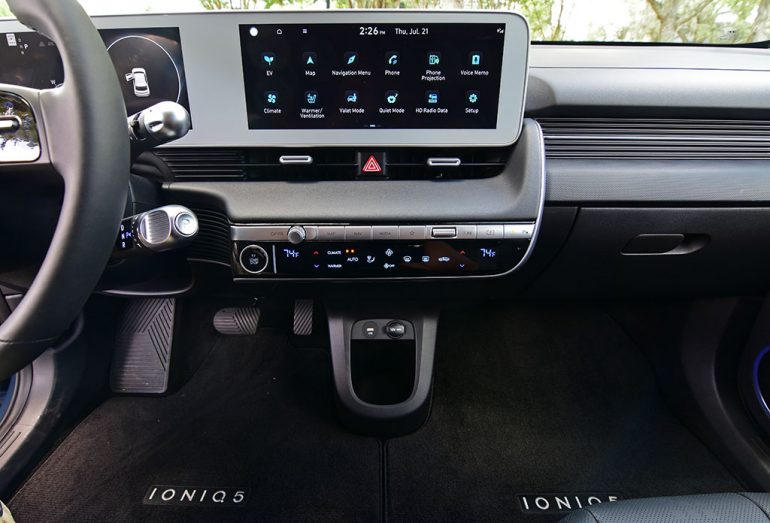 Safety
In terms of safety, there's a full array of the traditional and expected active safety features (blind-spot monitor and view monitor, lane-keeping assist, color heads-up display, 360-degree surround camera, forward collision alert/emergency braking, etc), in addition to having Hyundai's latest Highway Driving Assist feature that uses smart cruise control with the lane-centering system and a lane changing feature. The system still requires that you keep your hands on the steering wheel.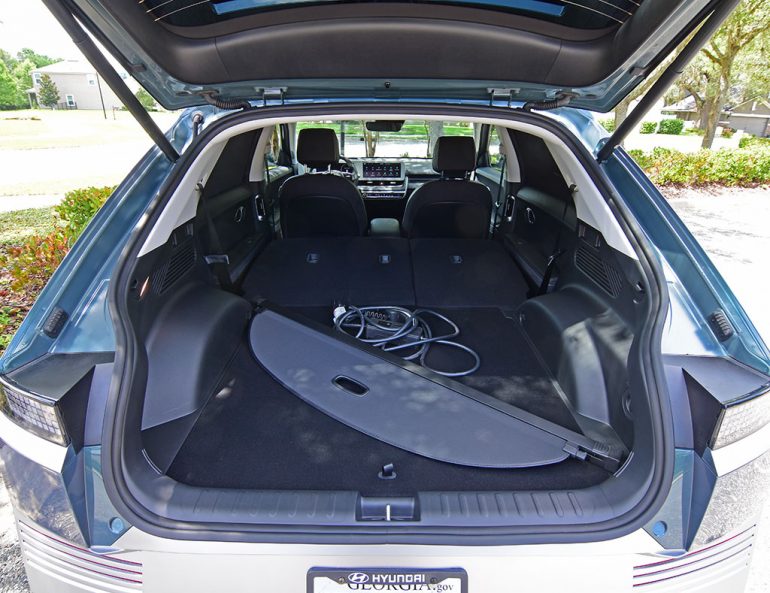 Price
The 2022 Hyundai Ioniq 5 fits nicely alongside gas-powered and EV competition with a starting price of $39,950 for the SE standard range RWD model. From there, things ramp up slightly and you can look at paying as much as $55,920 for the top-shelf Ioniq 5 Limited AWD trim of my test vehicle, which includes an inland freight and handling charge of $1,225.