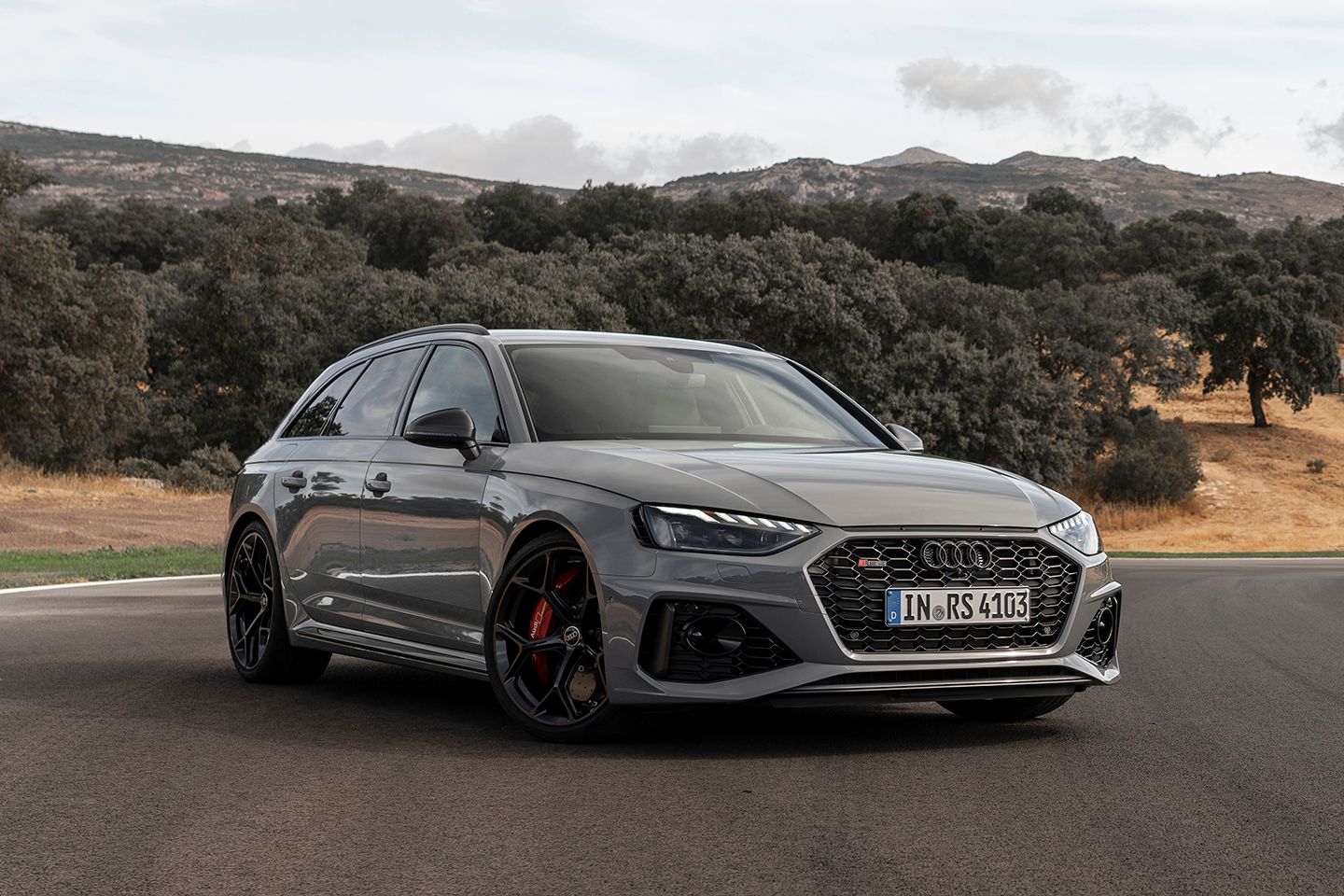 You've probably forgotten all about the B9 generation of Audi RS4. It didn't make all that much impact when new, truth be told, lacking the charismatic V8 of its predecessor and struggling to justify the premium over an S4 with its handling. Unless you simply had to have four driven wheels, a C63 AMG was easily superior. And now the new BMW M3 Touring is on the horizon, alongside the fascinating hybrid replacement for the C63. Anyone would be forgiven for not really giving two hoots about a five-year-old Avant.  
But this is an RS4 Competition and, honestly, it's worth your attention – even with just 75 cars coming to the UK at more than £80k, all with black paint and without the stunning carbon buckets seen here. Because for the RS4 swansong, Audi Sport has finally pulled its finger out and created, on this experience at least, quite a special car. If whatever comes next can engage its owner like this, then the future holds fewer concerns. 
A brief reminder of what makes a Competition, even though it might be familiar by now. Appropriately enough the drive of this Audi takes place on the same day the world first sees the 2.0-litre C63, and the clash of eras is nothing if not intriguing. The RS4 has less configurability than ever, with fixed ratio steering and manually adjustable coilovers. More noise has been added through nothing cleverer than stripping out noise insulation and fitting a naughty exhaust. The chassis has been enlivened with new anti-roll bars, a recalibrated Sport Differential and even modified ABS/ESC to take advantage of the stickier P Zero Corsa. It feels like quite an old-school approach (with not one more horsepower, notably) for what is now quite an old-school car in the face of that Mercedes. But one that's an awful lot easier to get your head around, which is nice.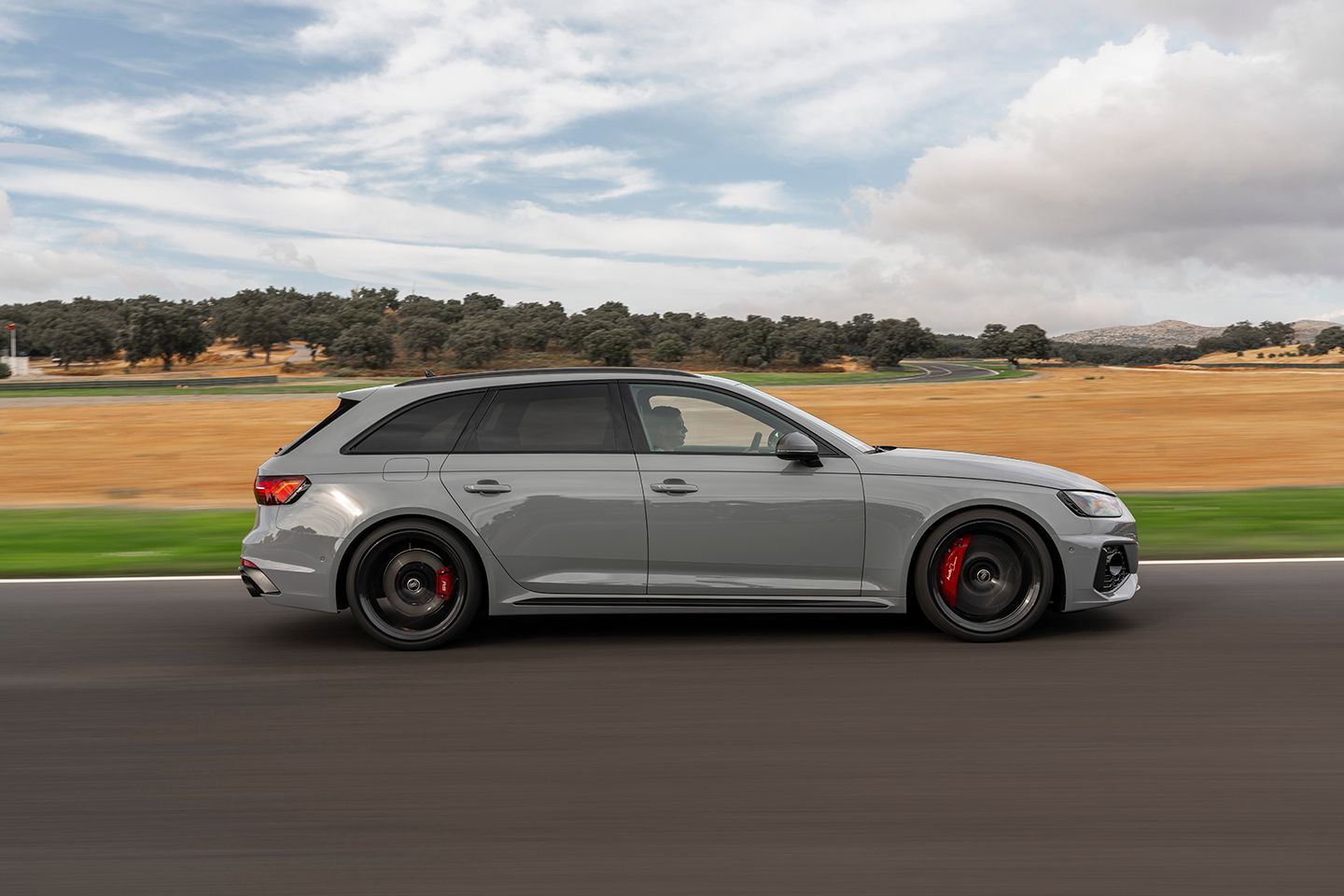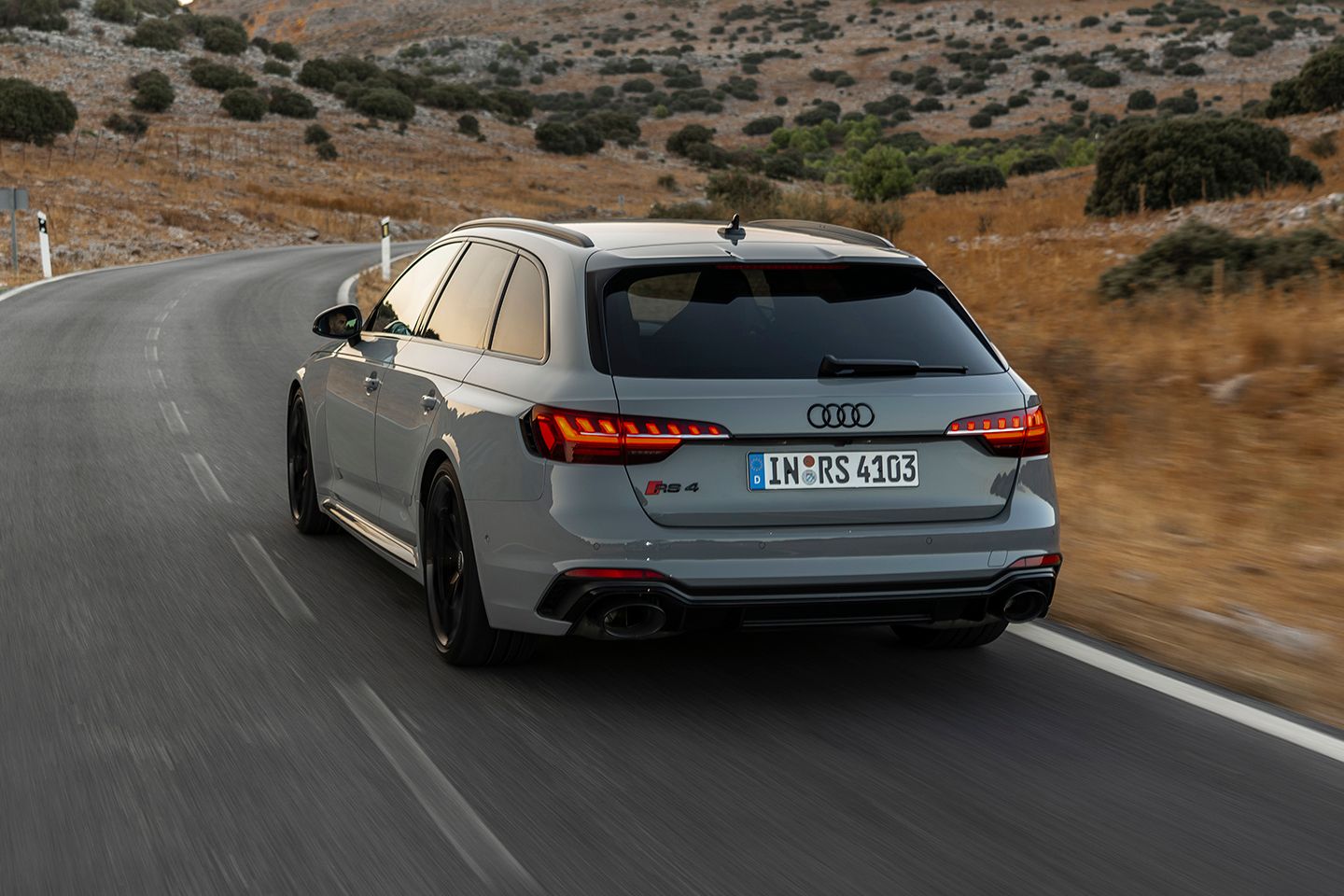 Is it valid to test the Competition on track? Some will inevitably say no, because it's a big Audi family bus. On the other hand, fast estates really ought to be the do-it-all performance car, and fitting anything with coilovers, semi-slick Pirellis and (optional) ceramic front brakes does rather signal some intent. Moreover, Audi had gone to the effort of further lowering the RS4s for circuit use and setting the dampers to their 'Nurburgring' development clicks; as standard it's 10mm lower than normal, and was then dropped another 10mm with the RS Sport Suspension Pro tool kit. It would have been rude not to try it out, even if the temptation was to stand gawping at an RS4 with the ride height of a Super Touring car. Grey Audi estate the Competition might be, but it doesn't want for pitlane presence.  
With the caveat of not having driven a standard RS4 for a while (and definitely not at Ascari), the Competition feels like a markedly better-sorted driver's car. The float and vagueness that tended to afflict the standard car is almost entirely eradicated. Pretty much everything that could and should have been improved without entirely re-engineering the car has been seen to; it now turns in with precision and confidence, it's more adjustable through a bend and it feels to be powering out from its rear wheels rather than being pulled out by the fronts. Unsurprisingly, the Competition is a more satisfying track car than standard because the driver is both more involved with the process and more able to dictate what the car does. We said it was old school. 
The steering (no doubt helped by stiff and sticky Pirellis) proves what a menace variable ratio is, imbued as it is with actual sensation and therefore some faith in the correlation between your input and the front wheels. As the nose washes out a bit, the throttle can be closed and you can feel the line tighten exactly how it should. The Competition ably deals with kerbs and successive changes of direction in a fashion that's again unfamiliar, and points to some methodical, expensive upgrades. One of the Audi bods in attendance said they've spent a year developing this Competition, and it really does feel that thorough. With tireless stopping power from the ceramics (you can be right in the pedal travel before the reworked ABS intervenes) and some decent V6 yowl reaching even helmeted ears, the RS4 Competition is an impressive circuit car. Not only will buyers not be embarrassed at a track day, they will actively enjoy the experience – there's real substance to this car.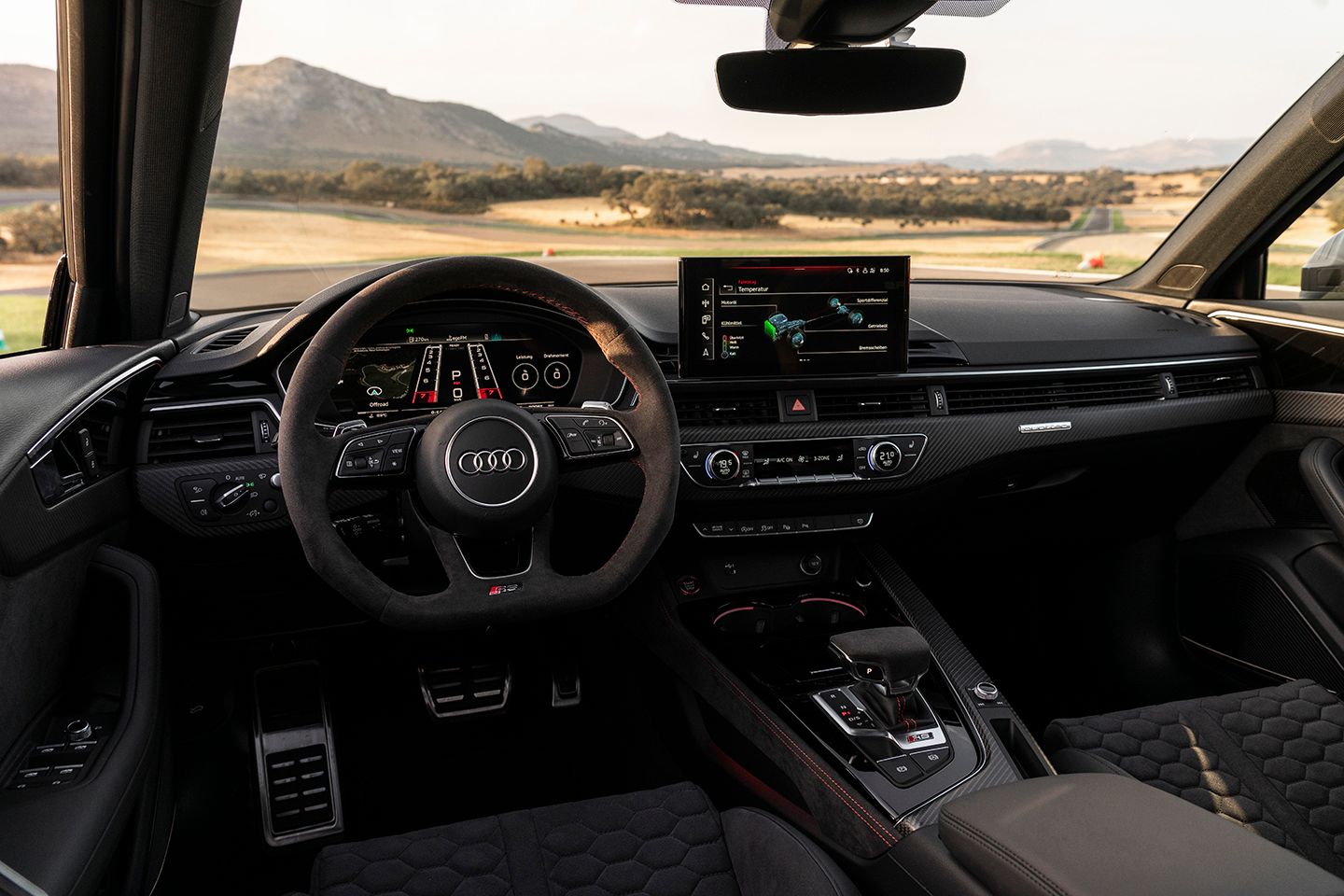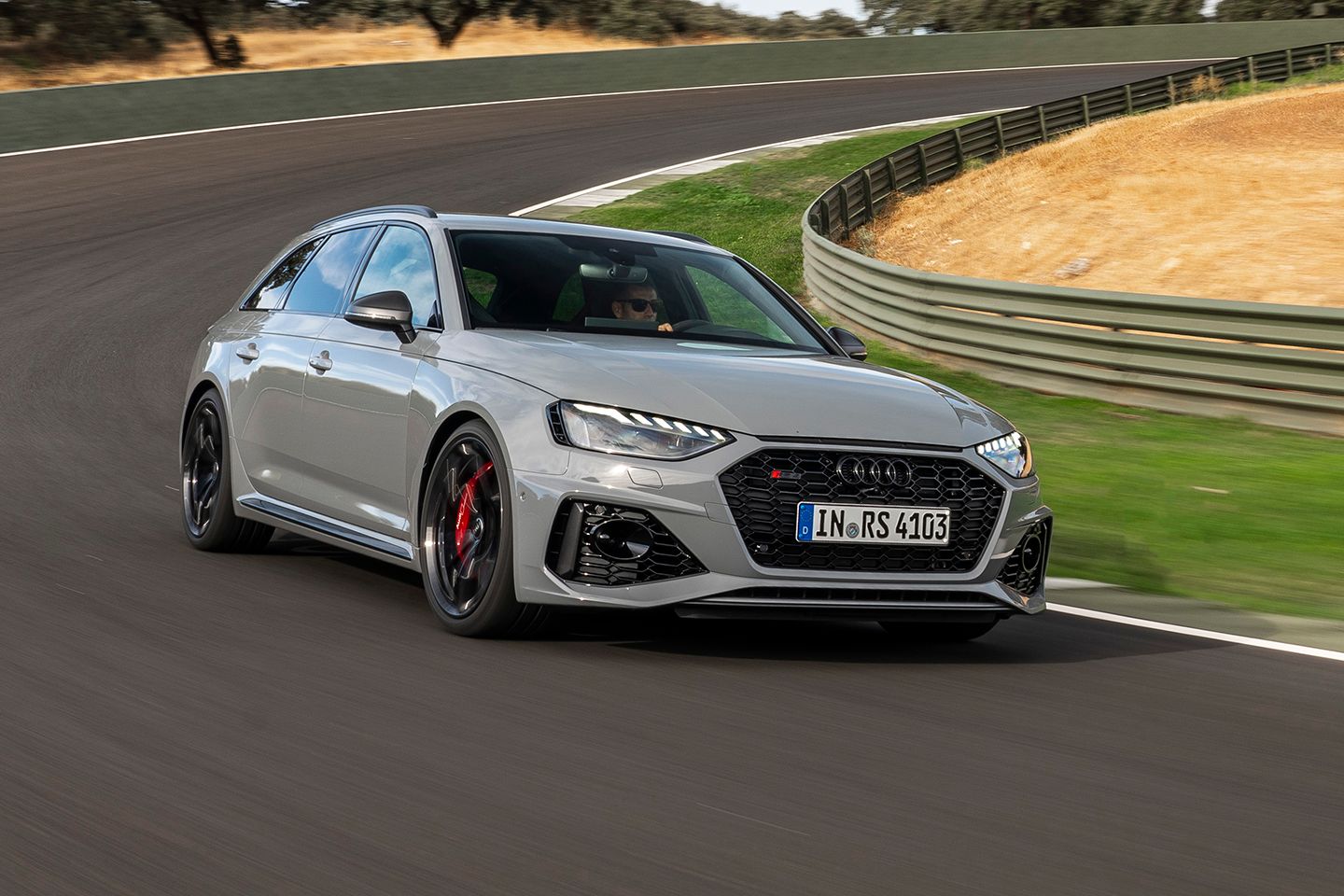 It isn't perfect, mind. The gearbox can still feel a bit slow both up and down even with changes for the Comp, which is an irk more than a serious gripe – the torque can haul you out a gear higher. And the ESC Sport setting doesn't feel quite as clever as it does in something like an M3 Competition, shutting the fun down just as that BMW system begins to work its magic. Finally, for all the talk of a more rearward bias for the sport diff (to the extent of overheating it), the Pirellis are simply too sticky on a dry track for anything even vaguely naughty on throttle. Daft though it sounds, you'd almost want the Corsa for the tenacity of the front end and something less aggressive at the back to fully appreciate the changes at that axle. But it's a great showing, nonetheless.  
It's all the more surprising given Audi spends as much time talking about how the usability of the RS4 has been retained as it does discussing how the dampers have 12 settings for low-speed rebound and 15 for high speed. This is very much intended as another everyday RS4 rather than some Project 8-style road racer and that's borne out by the reality: the Competition is just as comfy on the road as a regular RS. It wasn't clear exactly where the dampers were set for the road cars, but it was abundantly clear that the Competition could play the long-distance tourer just as well as any other RS4. If anything, it's more pleasant company, because less configurability means less mode anxiety; it can be left in Dynamic without concern for a craggy ride or gloopy steering, all the better for that newly discovered exhaust rasp to be heard. Maybe Auto remains the best compromise (because the Dynamic throttle still feels sharp) however this remains a more gratifying RS4 in any mode than a base model with time spent agonising over settings for this and that.  
Typically, international launch drives like this must finish with a proviso; the encouraging first show must be qualified somewhere more British, somewhere moister and rougher. Happily, in a stroke of luck some might call getting lost, there was chance to try the Competition on a wet, bumpy Spanish road, and it was even better than on circuit. The P Zero Corsas still have plenty to give in the rain, digging in with real bite and giving the driver plenty of faith. Once turned in there are options, with a little throttle spinning all four wheels to catapult the RS4 away or a bit more to really test Audi's claim of rear-biased handling (they aren't lying). The ESC Sport that felt a tad strict on circuit offers a nicely judged safety net and without the contrived drifty drive modes of an RS3, the RS4 feels far more natural in those joyous moments between grip and slip and back again that so seldom happen in any Audi. Wales ought to be an absolute riot if slippery Spain is anything to go by, because this is the immersive and capable driver's car we've been waiting for since the B7.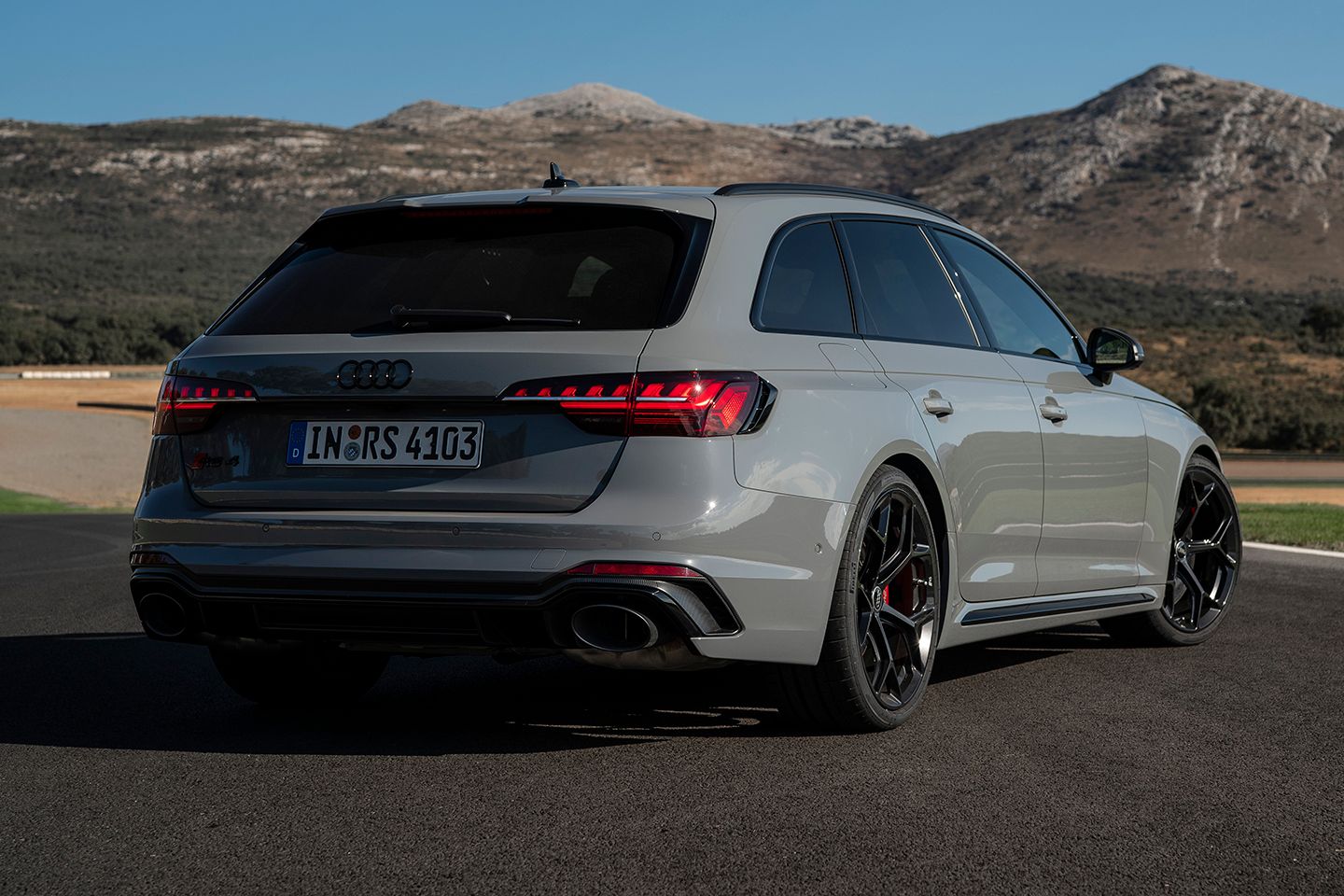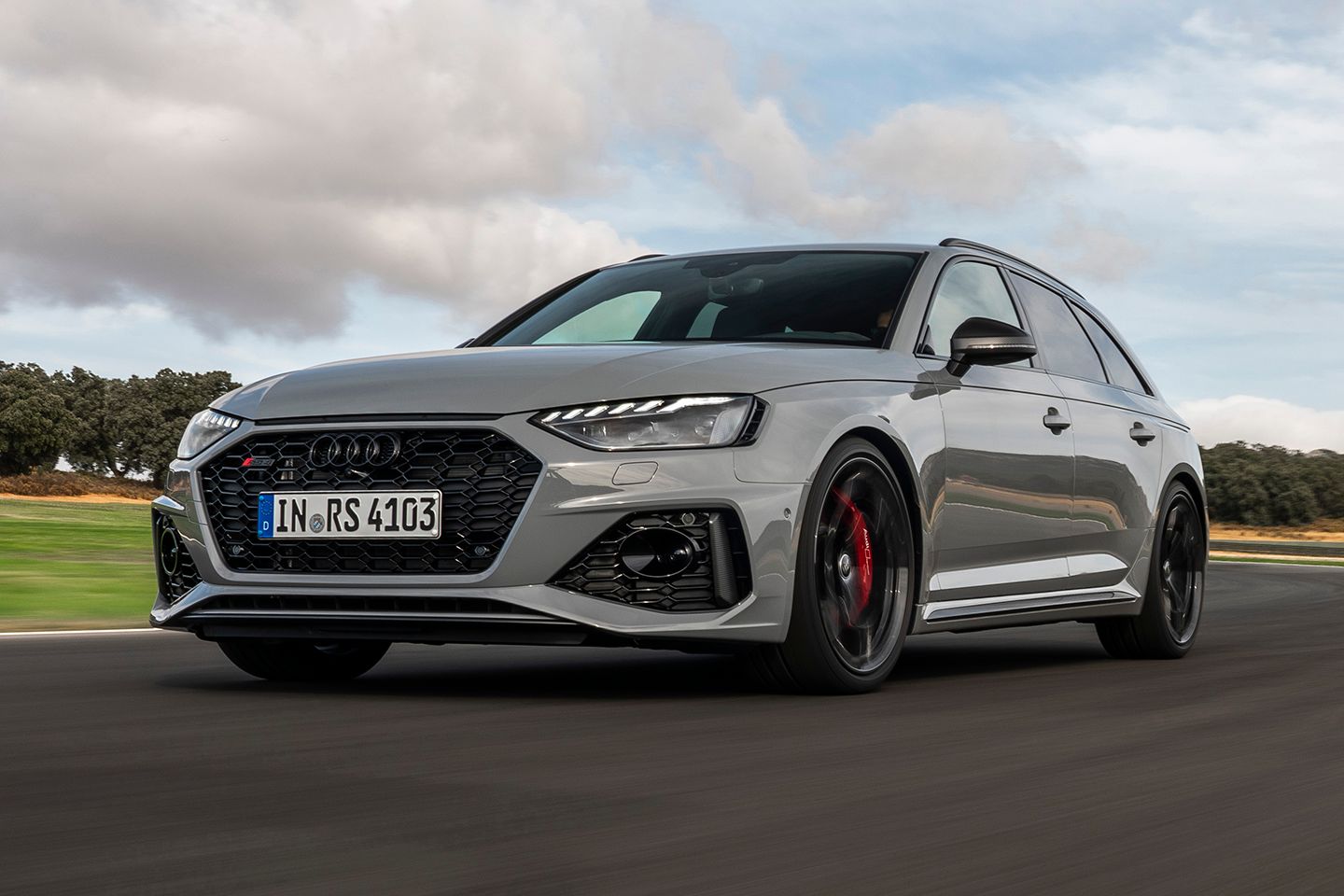 Of course, the temptation would be to say that this Competition is the car that the current RS4 should always have been, but that's not really true. It seems more than likely that the average fast Audi buyer doesn't care about low-speed compression or ride height; they probably like that Dynamic mode clenches the whole car like a fist and feels sporty. And they certainly don't want to splash out £80k and end up twiddling with manual suspension settings. Spending more for a car with no more power isn't really the RS4 way, either; if this Competition was just a part of the range like any other model then nobody would have bought it. Because arguably semi-slick tyres and manually adjustable coilovers don't play to the RS4's core message. But, my goodness, what a fantastic Audi Sport anomaly this is.  
Like the R8 GT, the Competition had to come at the end of the RS4's life, specced like this, in limited numbers and with a chunky price tag, to really draw attention to what's possible. It proves the willingness of Audi to make great driver's cars, and that has to be heartening for what looks like a very uncertain future. It could just as easily have not made the Competition and left the RS4 to quietly slip from the lineup; few would have thought much of it. Even with an unforgivably dull colour in the UK and the sneaking suspicion the M3 Touring will still tower above it, Audi deserves credit for realising the latent potential of its outgoing standard bearer. The world is a better place for an RS4 that looks and sounds this good with a drive to match. A few remain for sale at the time of writing; seldom has an old and expensive Audi seemed more appealing.  
SPECIFICATION | 2022 AUDI RS4 AVANT COMPETITION 
Engine: 2,894cc, biturbo V6Transmission: 8-speed automatic, Quattro permanent all-wheel drivePower (hp): 450@5,700-6,700rpmTorque (lb ft): 443@1,900-5,000rpm0-62mph: 3.9secTop speed: 180mphWeight: 1,790kg (including 75kg driver, standard car)MPG: 28.8CO2: N/APrice: £84,600