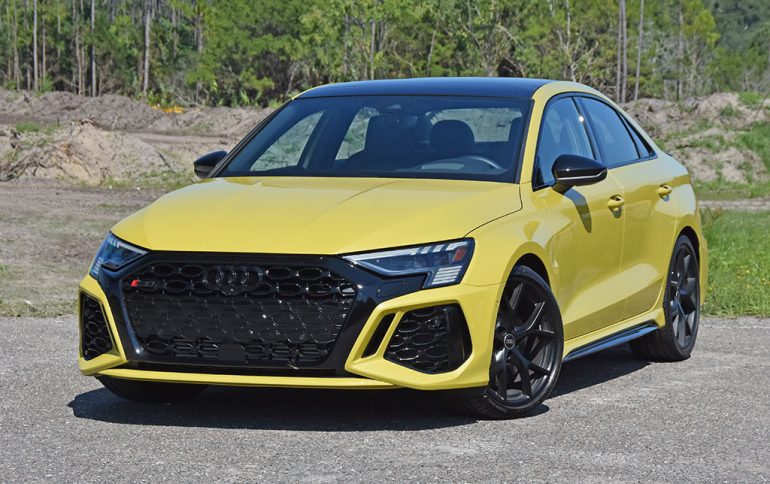 There's something special about powerful compact vehicles, which we like to refer to as pocket rockets. The Audi RS3 brings us something special that after driving for a week finds its way to a special place in my heart as being among a favorite for small performance vehicles. That means the new Audi RS3 ranks up there with the BMW M2 and the Mercedes-AMG CLA45.
The aggressive looks of the new Audi RS3 set it apart from its A3 and S3 platform mates. In experiencing the S3 earlier this year I knew the RS3 would be a blast and this week didn't disappoint.
The Audi RS3 has a unique look with the large front grille and Audi badge all being blacked out giving it an initial look that may be confused with other vehicles having a large blacked-out front-end section leading up to its LED headlights. The Audi character is found throughout the exterior with unique LED elements that put on a slight show to spell out "RS3" upon unlocking the vehicle while the rear LEDs dance in a pattern to welcome you to compact greatness.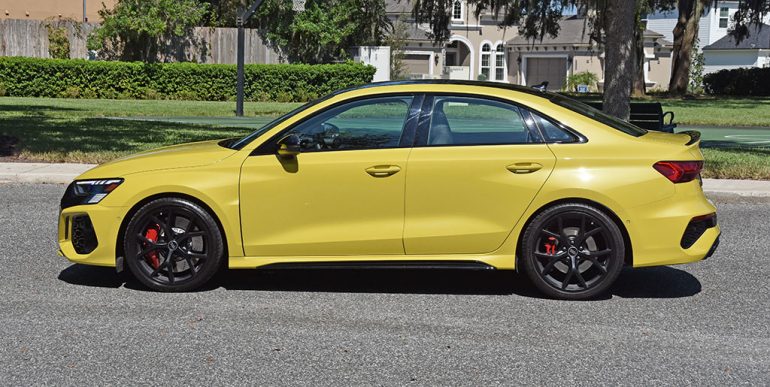 The 19-inch wheels, which are staggard, are patterned in a unique way where the fronts are wider than the rears to help balance some of the extra weight found up front, but you can't tell with a quick glance. Overall, the aggressive exterior style properly fits the RS3's eager performance, which is amazing!
Performance and Driving Character
Audi does things differently in many ways with the chassis of their vehicles having the engine mounted a bit further forward than automakers like BMW. However, Audi makes the best of what they have done as in the RS3 having wider tires up front (265/30ZR-19) than out back (245/35ZR-19) to better support that front end weight and lessen understeer. Based on an initial front-wheel-drive setup with its transverse mounted engine, the Quattro all-wheel-drive system is special having a torque vectoring system and a twin-clutch rear differential to disconnect either rear wheel when it needs and 100% of that available torque to a single rear wheel if needed or to help kick out the rear for some drift action.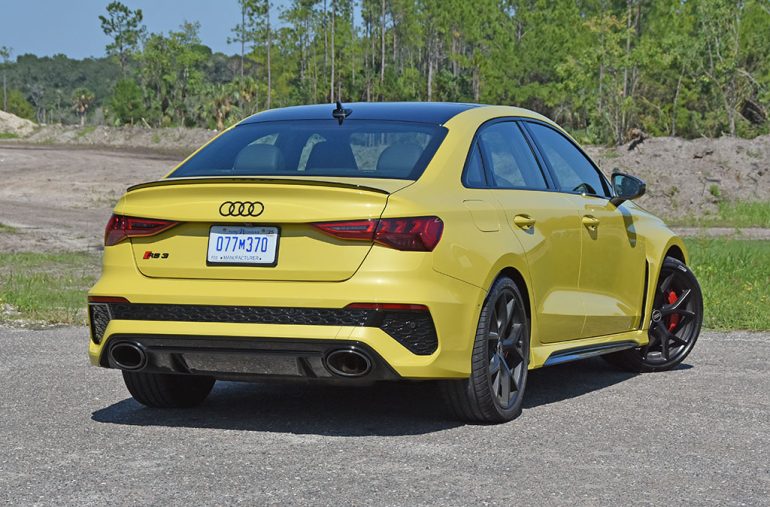 The engine of the Audi RS3 is a 2.5-liter turbocharged 5-cylinder gem that outputs 401 horsepower and 369 lb-ft of torque that's mated to a 7-speed dual-clutch automatic transmission. The power comes on strong but is a bit delayed in most situations unless you utilize the launch control system. In launch mode, the RS3 builds revs and boost acting like a fire that's ready to be stoked into a wildfire where it its 60 mph in just 3.3 seconds without much drama or wheelspin. The relatively light curb weight of just over 3,600 pounds helps the RS3 dance around like a ballerina but with grippy large shoes. The RS3 feels like it's on rails in the turns daring you to push it more and more where you will hardly ever reach its limits on public roads. If you do reach those limits, make sure your insurance policy is up to date!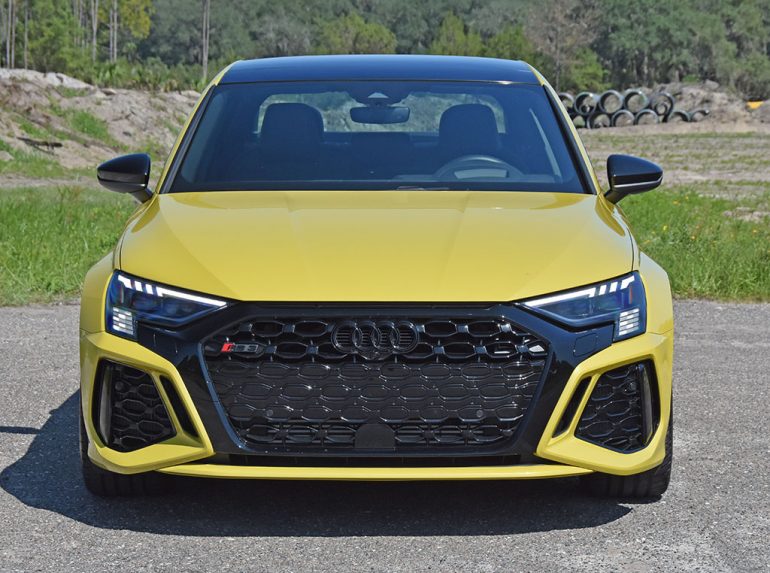 There's a welcomed composed nature about the RS3 that shines brightly when on the road. It feels well adept at providing a comfy ride quality with its adaptive dampers in the relaxed comfort mode in the Comfort or Auto drive modes. To stiffen things up, which the RS3 does nearly to the point of annoyance, the pre-set RS Performance drive mode can be dialed up via a steering wheel RS button for the most aggressive setting or customize your desirable characteristics in the RS individual mode. There's a specialized RS Torque Rear drive mode that nearly enables a rear-wheel-drive mode by sending a minimal amount of torque to the front wheels where you can basically perform drifts. Fundamentally, there is no 100% rear-wheel-drive mode as you cannot fully disconnect power to the front wheels. Getting the rear end out is not as easy as you think where you must contend with some unwanted turbo lag but find a happy power surge in the mid-range of the engine's RPM. However, once the power comes on, I find it hard to keep control of the rear initially. Let's just say, performing a drift in the new Audi RS3 isn't easy even though I have some experience in doing so in other "real" rear-wheel-drive vehicles. There's still a lot to bring smiles to your face from the lively chassis that is easy to toss around, to the delightful sounds coming from this turbocharged 5-cylinder. And when you want to put a stop to everything the RS3's brakes are there to oblige in an aggressive way with its 6-piston front calipers biting down on large 14.8-inch cross-drilled rotors. Audi knows what we enthusiasts want and the RS3 delivers.
Fuel Economy
The Audi RS3 has multiple personalities as you'll find where the Auto or Comfort drive modes provide a relaxed driving character where you can muster out a couple more miles to the gallon to best the EPA figures of 20 mpg city, 29 mpg highway, and 23 mpg combined. I saw as high as 32 mpg on the highway traveling on a backroad for several miles at around 65 mph. Otherwise, the EPA estimates seem to be on the conservative side.
Interior and Tech
Audi prides itself on being a forward-thinking brand in the realms of what today's technology affords us. In carrying the tradition, the Audi RS3 receives the latest in Audi's equipment starting with the innovative-for-its-time virtual cockpit featuring the extremely customizable 12.3-inch digital gauge cluster setup. The infotainment system may be an acquired taste for some with the 10.1-inch touchscreen and no physical control knob but remains mostly simplistic in its initial approach only hampered by a slight delay in some function responses. There's a welcomed set of physical dual-zone automatic climate controls below the screen. There's also the integration of wireless or USB-connected Apple CarPlay and Android Auto.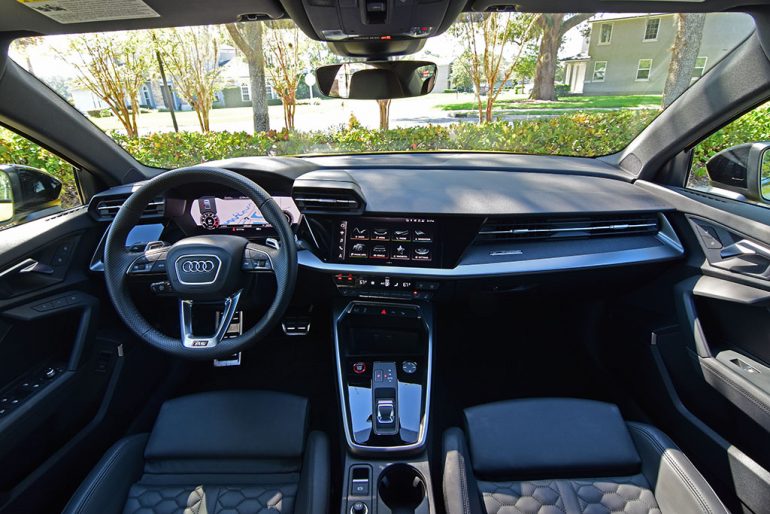 The seating areas are surprisingly accommodating with a good amount of space considering the subcompact size classification of the new RS3. Audi uses aggressive fixed headrest sporty and nicely bolstered heated front seats with delightful, quilted stitching. The rear seating area is somewhat tight on space but can be a good space for short trips with two adults that are just at 6-feet tall, but I wouldn't push it anymore than that. The trunk is small, as you would expect with just 8.3 cubic feet of space.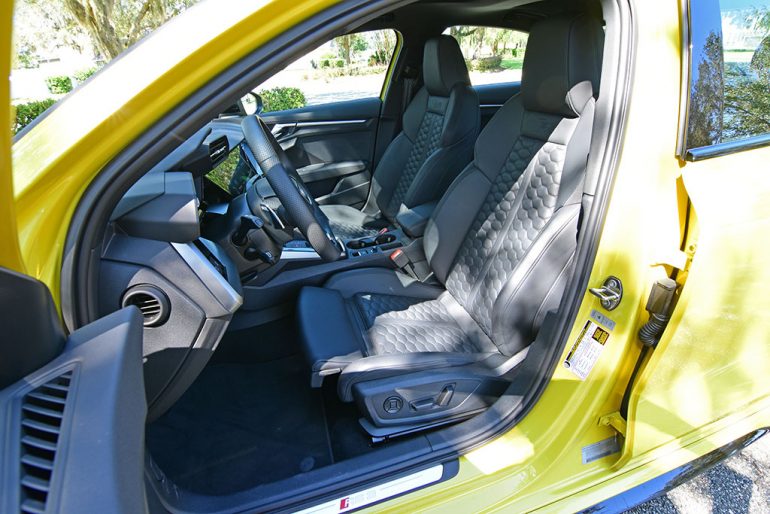 Safety
All the expected active safety features are present in the Audi RS3, including blind-spot monitors with rear cross-traffic alert, lane departure warning, lane keeping assist, forward collision warning and automated emergency braking, and adaptive cruise control.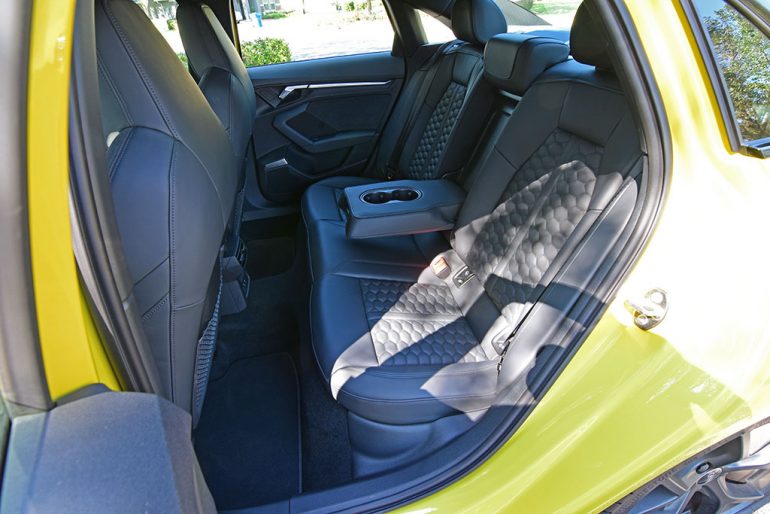 Price
Not only has Audi done justice in the performance landscape of compact pocket rockets in the new RS3, but the pricing is kept reasonable for all that you get in this smallish performance package with my loaded-up Python Yellow test vehicle comes in at $65,440, including a $1,095 destination charge. A new Audi RS3 without any options or fees starts at $58,900, which are reasonable levels considering the all-wheel-drive performance that you get and the multiple personality luxury side of things that come with the RS3.